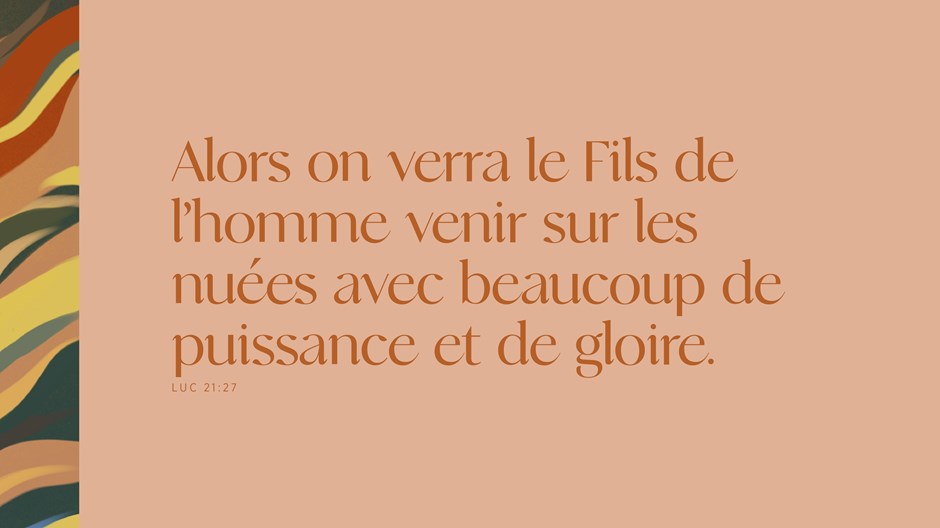 Image: Nicole Xu
Lecture dans Luc 21.25-36.
Le deuxième avènement de Jésus ne sera en aucun cas discret. La création toute entière, des cieux jusqu'aux mers déchaînées, tressaillira ; tous les peuples du monde le verront et désespéreront. Il n'y aura littéralement nulle part où se cacher, nulle part où se mettre à l'abri de celui qui viendra enfin rendre justice. Nulle part, sauf justement en celui qui revient pour juger les vivants et les morts. Alors que les nations seront dans l'angoisse, il est dit aux disciples de Jésus de ne pas se cacher mais de se tenir debout et de relever la tête. De par le fait qu'ils se sont réfugiés dans le Christ qui trône dans les cieux, ils n'auront rien à craindre lorsqu'il reviendra sur terre.
Jésus voulait que ses disciples comprennent que cet événement surviendrait assurément et rapidement. L'identité de « cette génération » a suscité bien des débats (Luc 21.32). Peut-être l'expression fait-elle référence aux auditeurs immédiats de Jésus, pour qui la chute de Jérusalem constituerait un signe et un modèle de la fin à venir. Peut-être s'agit-il de la génération qui verra les signes de l'avènement, ce qui signifie que le retour du Christ suivra de peu ces premiers rameaux métaphoriques. Quoi qu'il en soit, Jésus promet que l'événement est plus concret que le monde naturel lui-même.
Que doivent faire ses disciples pendant ce temps, dans l'attente ? Ceux d'entre nous issus de certaines Églises s'attendent peut-être à être appelés à évangéliser et à former des disciples, parce que les peuples de la terre doivent être informées de cette calamité à venir. Et oui, nous nous devons de le faire. Ceux d'entre nous provenant d'autres milieux religieux pourraient s'attendre à être appelés à pratiquer la justice parce que nous avons à aimer ce que Dieu aime et à haïr ce qu'il hait. Et oui, nous nous devons de le faire.
Cependant, à ce moment précis de Luc 21, Jésus appelle ses disciples à être prudents, à veiller. La soudaineté et la violence de la fin sont à l'image d'un piège à ressort. Qui serait assez prétentieux pour penser y échapper ? La tentation mondaine des fêtes débridées ou les appréhensions excessives auxquelles nous succombons ne sont que deux témoignages de la manière dont le cœur humain peut souffrir de lourdeurs. Et ce qui est lourd, porteur de pesants fardeaux, ne pourra s'écarter assez rapidement pour parer le coup.
Ni les divertissements ni les soucis ne nous offrent de solution. L'évasion ne fait pas disparaître la réalité ; l'inquiétude ne nous prépare pas vraiment. Jésus nous appelle plutôt à veiller et prier. À prêter attention, en nous en remettant entièrement au Dieu qui vient vraiment. Jésus veut que ses disciples puissent se tenir devant lui à ce moment-là ; il répondra à cette prière.
RACHEL GILSON fait partie de l'équipe de direction de Cru pour le développement théologique et la culture. Elle est l'autrice de Born Again This Way : Coming Out, Coming to Faith, and What Comes Next.
Traduit par Valérie Dörrzapf
Révisé par Léo Lehmann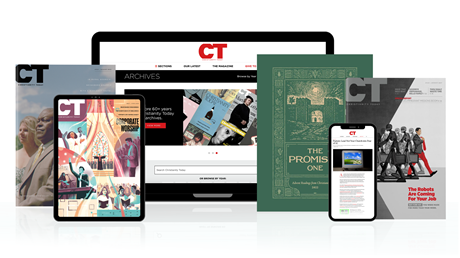 Subscribe to Christianity Today and get access to this article plus 65+ years of archives.
Home delivery of CT magazine
Complete access to articles on ChristianityToday.com
Over 120 years of magazine archives plus full access to all of CT's online archives
Subscribe Now
Veillez et priez
Veillez et priez