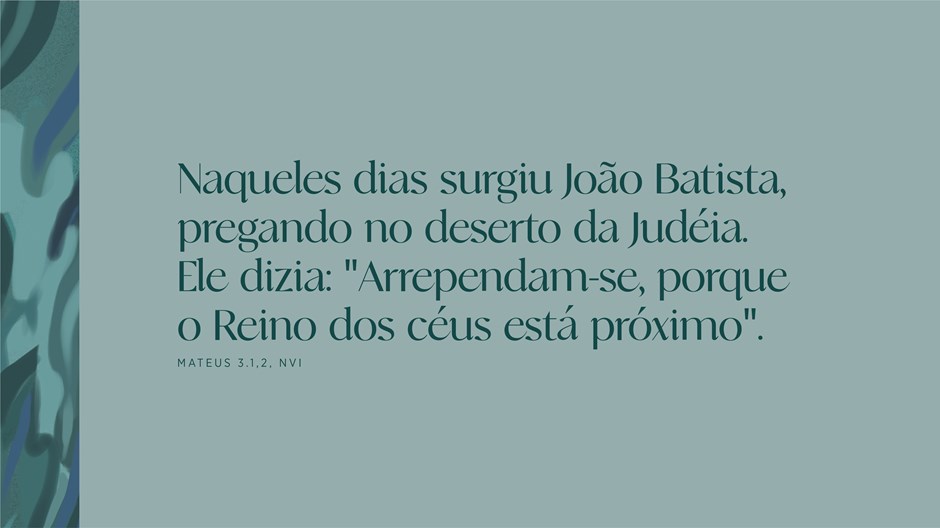 Clique Aqui e faça o download do nosso devocional diário "O Evangelho do Advento".
Leia Mateus 3.1-12
Mateus, o escritor do Evangelho, preserva o cenário histórico do ministério de João Batista com um carimbo de data e hora simples: "Naqueles dias" (v. 1). Ler o capítulo anterior (assim como Lucas 3) é entender que aqueles eram os dias de governantes megalomaníacos, como Herodes, o Grande, que, em sua fúria sanguinária, matou os meninos de Belém. Depois que Herodes morreu e seu filho subiu ao trono, José temeu por sua família e mudou-se com todos para Nazaré, "para que se cumprisse o que os profetas haviam falado, a fim de que ele fosse chamado de nazareno" (2.23, ESV).
O Evangelho de Mateus insiste no cumprimento das promessas proféticas de Deus. "Deus disse — e foi cumprido", Mateus enfatiza continuamente. Essa noção não deve ser tratada como autoevidente, é claro, não quando a realidade visível sugere que o mal está vencendo. Quando bebês são mortos pelas mãos de um rei mau, por exemplo, podemos realmente confiar que o céu está se abrindo, como João anuncia (3.2)?
João Batista remete à figura de Elias no Antigo Testamento, vestido com pelos de camelo, comendo gafanhotos e mel silvestre. Elias foi outro profeta que ministrou sob um regime maligno. O rei Acabe, assim como Herodes, matou por ambição. Após a vitória dramática de Elias sobre os profetas de Baal, sua rainha Jezabel pôs a prêmio a cabeça do profeta.
Arrependa-se, pois o reino dos céus está próximo. Esta é essencialmente a palavra pregada por todos os profetas de Deus e, pela graça de Deus, é uma palavra que alcança as trevas. É uma boa notícia: houve uma mudança de administração. Esta proclamação, pregada por João e Jesus, antecipa que outro rei subirá ao trono. Como o próprio profeta Isaías declarou muitas centenas de anos antes, o governo desse rei, ao contrário do governo do rei Acabe ou do rei Herodes, será de paz (Is 9.6,7).
Seguir o Rei Jesus não é simplesmente ser salvo por ele; é ser mudado por ele. De acordo com Paulo, o evangelho nos diz que Jesus "se entregou por nós a fim de nos redimir de toda a maldade e para purificar para si mesmo um povo particularmente seu, dedicado à prática de boas obras" (Tt 2.14).
Conhecemos a operação da graça maravilhosa, salvadora e purificadora quando o povo de Deus deixa o pecado e se entrega totalmente a Deus. Se o Advento é o raiar da luz, o arrependimento é o hábito diário de andar nela.
Jen Pollock Michel vive em Toronto, é escritora, apresentadora de podcast e palestrante. Ela é autora de quatro livros, entre eles A Habit Called Faith e Surprised by Paradox.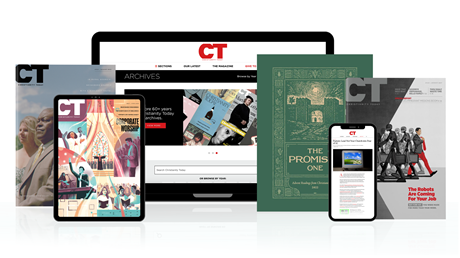 Subscribe to Christianity Today and get access to this article plus 65+ years of archives.
Home delivery of CT magazine
Complete access to articles on ChristianityToday.com
Over 120 years of magazine archives plus full access to all of CT's online archives
Subscribe Now
Maravilhosa graça purificadora
Maravilhosa graça purificadora