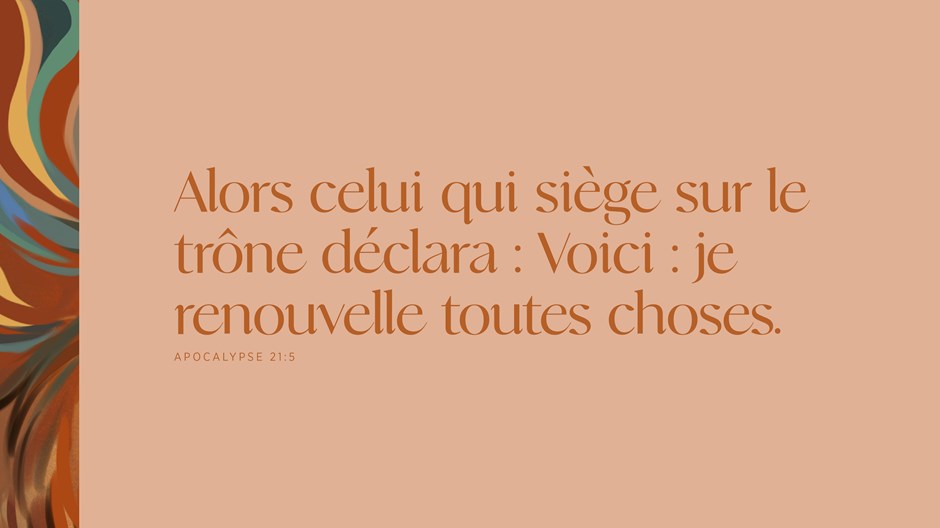 Image: Nicole Xu
Lecture dans Apocalypse 21.1-6.
Comment avez-vous vécu la pandémie ? Quel effet a-t-elle eu sur votre relation avec Dieu ? Certaines personnes se sont rapprochées de Dieu et ont trouvé la force de traverser des moments difficiles. Mais pour certains, qui ont peut-être perdu des proches ou frémi devant l'ampleur des souffrances de ce monde, la pandémie a soulevé bien des questions.
Comment un Dieu d'amour peut-il permettre que de telles choses se produisent ? C'est le séculaire « problème de la souffrance », au moins aussi vieux que le Livre de Job. L'Écriture n'a pas de réponse unique à cette question ; elle nous donne plusieurs perspectives pour y méditer.
Puis, juste à la fin de la Bible, nous trouvons ce message : « Il n'y aura plus ni mort, ni deuil, ni cri, ni douleur » (Apocalypse 21.4). Dieu va guérir sa création de tout ce qui l'endommage et la détruit. Certains se plaignent parfois du peu d'expressions de l'amour de Dieu dans le livre de l'Apocalypse. Certains pourraient dire la même chose à propos de ce que nous avons vécu durant la pandémie. Mais pouvez-vous imaginer une plus belle image de l'amour de Dieu que celle-ci : Dieu « essuiera toute larme de leurs yeux » (v. 4) ?
L'Apocalypse décrit par de nombreuses images les horreurs de l'histoire. Mais l'espoir transparaît à chaque fois et s'épanouit dans cette vision finale donnée au prophète. Dieu fera toutes choses nouvelles. Dieu a un nouvel avenir à offrir à toute sa création.
Quand nous pensons à l'avenir, nous réfléchissons le plus souvent à partir de ce que le passé et le présent pourraient nous amener. Mais il s'agit ici de tout autre chose. Tout comme Dieu seul peut créer, Dieu seul peut renouveler l'ensemble de sa création. Cela a commencé par la résurrection de Jésus : une chose nouvelle qui change tout. Et dans des vies transformées par l'Esprit du Christ, nous avons un avant-goût de ce nouvel avenir.
Cet avenir va lui-même bien au-delà de ce que nous pouvons imaginer. Mais la vision de Jean nous invite aussi à lever les yeux vers cette haute montagne (v. 10) d'où le prophète contemple la nouvelle Jérusalem qui descend du ciel. Avec ce regard, nous pouvons voir beaucoup plus loin.
Au cœur de ce nouvel avenir, il y a Dieu : « Voici la Tente de Dieu avec les hommes. Il habitera avec eux ; ils seront ses peuples et lui, Dieu avec eux, sera leur Dieu. » (v. 3). Tel a toujours été le dessein de Dieu pour sa création, et c'est ce qui fera toute la différence.
Partager la vision de Jean n'est pas une simple pieuse rêverie. Elle nous donne l'espoir de vivre. Nous pouvons dès à présent commencer à vivre selon ce que Dieu promet, et cela fera toute la différence dans nos vies, ici et maintenant aussi.
RICHARD BAUCKHAM est professeur émérite d'études du Nouveau Testament à l'Université de Saint Andrews, en Ecosse, et auteur de nombreux livres, notamment La théologie de l'Apocalypse.
Traduit par Valérie Dörrzapf
Révisé par Léo Lehmann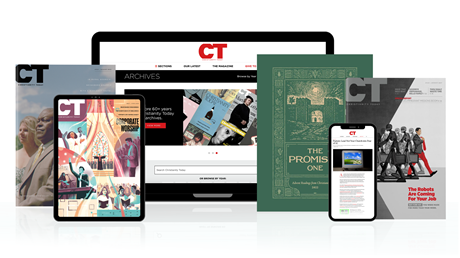 Subscribe to Christianity Today and get access to this article plus 65+ years of archives.
Home delivery of CT magazine
Complete access to articles on ChristianityToday.com
Over 120 years of magazine archives plus full access to all of CT's online archives
Subscribe Now
Toutes choses nouvelles
Toutes choses nouvelles