Francis Chan
Francis Chan is the founder and former teaching pastor of Cornerstone Community Church in Simi Valley, California. He is a noted speaker and author of Crazy Love: Overwhelmed by a Relentless God and Forgotten God: Reversing Our Tragic Neglect of the Holy Spirit, His most recent book, Erasing Hell: What God Said About Eternity, and the Things We've Made Up, was a response to Rob Bell's Love Wins.
Featured Articles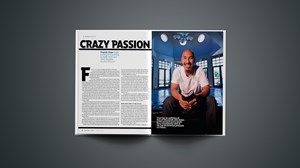 Crazy Passion
Francis Chan keeps pushing and pushing to make more and more disciples.
John Brandon|
Francis Chan's Next Steps
The 'Crazy Love' author stepped down from his church and doesn't know where he's headed.
Interview by Sarah Pulliam Bailey|
Q&A: Francis Chan on Rob Bell and Hell
Why 'Erasing Hell' was his most difficult book, how 'Love Wins' prompted repentance, and whether 'Believe in Jesus or you'll go to hell' is good news.
Interview by Mark Galli|
Loading More