Mark Driscoll
Mark Driscoll is the founder and pastor of Mars Hill Church, based in Seattle, Washington. He's also the co-founder of the Acts 29 Network and Churches helping Churches. Known for his aggressive preaching style (Donald Miller immortalized him as "Mark the Cussing Pastor" in Blue Like Jazz), Driscoll has stirred controversy over comments about masculine Christianity, sexuality, and women. He and his wife Grace recently released the book Real Marriage: The Truth about Sex, Friendship, and Life Together.
Featured Articles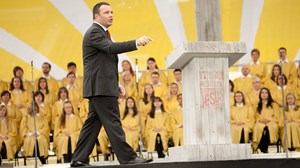 Mark Driscoll Addresses Crude Comments Made Trolling as 'William Wallace II'
Mars Hill pastor says 14-year-old posts were 'plain wrong' and he 'remain[s] embarrassed,' but 'I have changed.'
Pastor Provocateur
Love him or hate him, Mark Driscoll is helping people meet Jesus in one of America's least-churched cities.
Q & A: Mark and Grace Driscoll on Sex for the 21st-Century Christian
The Seattle couple talks to CT about their new book on marriage.
Interview by Katelyn Beaty and Marlena Graves
|
loading more