Journey to Wittenberg
He had official business to attend to for his duke, Friedrich II, with "Doctor Martin" and John Bugenhagen ("Pomeranus"), theologian and priest of the Wittenberg castle Church. Schwenckfeld's personal goal, however, was to discuss with Luther the breakthrough he and Valentine Crautwald believed they had achieved on the meaning of the Lord's Supper.
Schwenckfeld would not have approached Luther with trembling, for he himself had the prestige of a nobleman; still, he must have had great respect for the powerful doctor of Wittenberg whose writings were shaking all Europe and had been decisive in his own life (he had been converted after reading Luther). It was during the Peasant's War, a trying time for Luther; it must have taken a degree of courage on Schwenckfeld's part to approach Luther on this topic at this time. He therefore must have traveled through the crisp, chilly Saxon landscape in deep thought and expectation.
Previously, Schwenckfeld had written to Luther laying out twelve arguments for his understanding of the Supper; he had received no reply. His conception was based upon an interpretation that his colleague Crautwald—a scholar in the original languages of Scripture—claimed he had received in a "revelation." The debate about the Lord's Supper turned upon only a few of Jesus' words in the original Greek. It is hard for most of us today to fathom the enormous importance these men placed upon the differences made by the order in which these few words were translated, and the resulting shifts of meaning.
Schwenckfeld believed his interpretation was divinely sent, and he hoped that Luther would recognize in his doctrine a solution to the debate that was causing serious strife and discord among Christians. He was deeply ...
You have reached the end of this Article Preview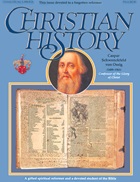 01/01/1989