A Friend in the Lord Protector
Oliver Cromwell became the ruler of England—the Lord Protector—in 1653, after the English Civil Wars. In 1655, when news came to England of the massacre of Waldensians by French troops, Cromwell, and all England, were gripped with horror and indignation at the reports of the brutal treatment of "those of like precious faith." Accounts of the kidnapping, rape, and gruesome torture of women and children especially fueled the English fury.
The Puritan pulpits of England rang out with fiery sermons condemning the acts. Across England many church interiors were painted red as a constant reminder to the public of the suffering of their brothers and sisters in the Alps.
For months Cromwell was preoccupied with the plight of the Waldensians. He sponsored a public collection of money for relief for the survivors, and even donated £2,000 of his own. As much as half a million pounds was raised as a result of the campaign. He oversaw the details of the relief program, to ensure that the money reached those in most need.
He also sent letters to various European rulers (composed by his famous secretary, John Milton), calling for their help, even implying military intervention. Finally, after close negotiations between Cromwell and Catholic France, the French pressured the Duke into stopping his cruel campaign.
The following are two of Cromwell's letters, and a poem by Milton.
Letter to the Duke of Savoy (1655)* [* This is a translation of the original, which was composed in Latin by John Milton. From William S. Gilly's, Narrative of an excursion to the mountains of Piedmont, London, 1827.]
Most serene Prince,
We are informed by letters received from several places in the vicinity of your dominions, that the subjects of your royal highness, ...
You have reached the end of this Article Preview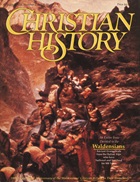 04/01/1989