A Time for Mourning, A Time for War
At the beginning of the 17th century, the Waldensians numbered twenty thousand. Under the firm leadership of a handful of pastors, and a more numerous group of schoolmasters, they kept one hand on the Bible and the other on the hoe, one eye on Geneva and the other on the New Jerusalem of the heavens above.
Tillers of the soil and keepers of flocks, the Waldensians dwelt exclusively in a remote corner of Italy. The Counter-Reformation of the Roman Catholic Church had forced them to shut themselves up in the mountains, amidst the Cottian Alps, between the towering peaks.
The region was divided between two sovereigns: the Delfinato, an area including the upper Dora and Chisone Valleys, belonged to the King of France; the Pellice and Germanasca Valleys belonged to the Duke of Savoy. The area's culture and language was (and is) the expression of a combination of two cultures: French and Italian.
Massacre and Mortal Struggle
The Waldensians prospered. They built churches and schools, and began to move out to the plains below. Everywhere they brought with them the Bible and the Psalms put to music by the French Calvinists—the Huguenots.
A reaction set in in the Piedmont. Injunctions and decrees, incursions and pillage of the countryside put the Waldensians to the test, but they did not give in. In the end, the authorities in Turin took drastic measures. In January 1655, a judge ordered the Waldensians to abandon all they possessed beyond the territorial limits established almost 100 years before by the treaty of Cavour (1561). The Marquis of Pianezza was stationed at Torre in the Pellice Valley, but his 700 soldiers were no match for the 2,000 Waldensians observing them from the safety of the surrounding hills.
Meanwhile, however, a ...
You have reached the end of this Article Preview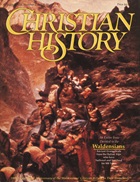 04/01/1989