An Ancient and Undying Light
Despite centuries of severe persecution, these Christians from the Italian Alps, through the strength of their commitment to Christ, the Bible, and a life of poverty, maintained their evangelical identity, and faithfully carried the Gospel torch from the 12th century to the Reformation.
The late 12th century in Europe was a time rich in spiritual ferment and in its various expressions of religious experience. It is in this distant, shifting period that an ancient group of evangelical Christians—the Waldensians—first appear in the regions of Lyons (France) and, slightly later, Milan (Italy).
In the earliest days the members of this movement were simply called "The Poor." From their seemingly insignificant beginnings, with the odds against their survival as a distinct group, they did survive, and their difficult journey of faith stands out in history.
More than three centuries would pass before the Waldensians would build their own church buildings and view themselves as outside of the mother church; they would eventually melt into the Protestant Reformation. But until that time in the 16th century, The Poor would live as a scattered but closely knit movement within the Roman Church, with a central devotion to Christ, the Scriptures, and a life of poverty in conformity to the example of the Apostles.
In the context of their turbulent time, the emergence of the Waldensian Movement was not exceptional. What is surprising is their survival for such a long period of time. Far from being welcomed by the Church authorities, the Waldensians were harshly repressed. (As opposed to the case, for example, of the great monastic founder Francis of Assisi [1181–1226] and his followers—whose ideas were quite similar in spirit and intention ...
You have reached the end of this Article Preview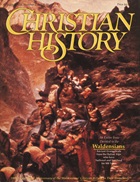 04/01/1989