Worshiping Like Pagans?
"The Devil, whose business it is to pervert the truth, mimics the exact circumstances of the Divine Sacraments in the Mysteries of Mithras. He himself baptizes some, that is to say, his believers and followers; he promises forgiveness of sins from the Sacred Fount and thereby initiates them into the religion of Mithras; … he brings in the symbol of the Resurrection, and wins the crown with the sword."
—Tertullian (early third century)
This is just one bit of tantalizing evidence that has led some scholars to suggest early Christians borrowed worship practices from the religions of Greece and Rome, particularly the mystery religions (see "Inside Pagan Worship" in this issue).
Christian History asked Dr. E. Glenn Hinson, professor of church history at The Baptist Theological Seminary at Richmond, Virginia, to explore how much early Christians worshiped like their pagan neighbors.
Some scholars have claimed the apostle Paul was essentially a devotee of Greek mystery religions, that we cannot understand the New Testament without understanding the language of the mystery religions. Hardly anyone would now agree.
Still, most scholars recognize that over several centuries Christianity did not escape the effects of Greek and Roman culture. The question is, to what extent did the culture's religions shape the lives and customs of Christians?
To answer that question, we must divide early Christian attitudes by historical periods.
Hesitant Adaptations
The church experienced little Greek and Roman influence in its earliest years. In the age of the apostles, up to about A.D. 70, the predominance of Jewish Christians in the churches assured the influence of Judaism. Because Judaism was diverse, we find ...
You have reached the end of this Article Preview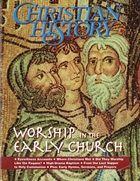 01/01/1993