The Strange Stigmata
The Italian poet Dante, in his Divine Comedy, said of Francis, "He received from Christ the last seal, which his members bore for two years." By "the last seal," Dante meant the Christ-like wounds that appeared on Francis, which Dante interpreted as a confirmation of Francis's life of Christ-like suffering.
Francis was the first to claim to have received such "stigmata." But did he actually receive such wounds? What kinds of wounds were these? What caused them? What did they mean? Christian History put these questions to Dr. Lawrence S. Cunningham, professor of theology at the University of Notre Dame. He is author of St. Francis of Assisi (Harper & Row, 1981).
The basic facts about which the early sources on the life of Saint Francis agree are these: Two years before he died, Francis went on retreat with three of his long-time companions, to a mountain called La Verna. He was tired, sick, nearly blind, a person who no longer headed the movement of little brothers he had founded.
On or about the Feast of the Holy Cross (September 14), he had an ecstatic experience. He saw a vision of a six-winged seraph (compare Isa. 6:2) embracing a crucified man, and the crucified man seemingly pierced Francis's body.
Afterward, until his death in 1226, Francis carried on his body what appeared to be wounds on his hands, feet, and side. An early account described the wounds as dark scars that would periodically bleed.
In announcing Francis's death, the head of his order, Brother Elias of Cortona, wrote a circular letter to all the friars. Elias said that those who were with Francis at his death inspected the wounds, which Elias called, for the first time, stigmata.
The ...
You have reached the end of this Article Preview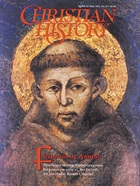 04/01/1994