Preacher of Revolution
John Knox was a strange and rather frightening character. He was narrow-minded and intolerant. He lacked generosity of spirit and loved to hate. But he possessed immense courage and feared no one.
In the pulpit, he was at his most powerful. He mesmerized thousands of Scots, who were prepared to lay their lives down for Protestantism at his behest. By his preaching, he molded both nobility and ordinary folk into a formidable fighting force and thus left his stamp on the Protestantism of Scotland for centuries to come.
"Base" Beginnings
The man who was to lead this great religious revolt and challenge the authority of monarchs had humble, or as Knox put it, "base" beginnings. He was born, probably in 1514, at Haddington, a small town of some 1,500 inhabitants south of Edinburgh. We do not know whether his father, William, was a merchant or a craftsman. But Knox's humble background gave him an instinctive ability to communicate effectively with ordinary people.
He was able to avail himself of a good education, and he probably mastered the rudiments of Latin at a school in Haddington. Around 1529 he entered the University of St. Andrews and went on to study theology under distinguished theologian John Major, who had both criticized Luther's theology and condemned abuses in the Catholic church.
Knox was ordained in April 1536, but that did not lead to a parish appointment because there was an excess of priests in Scotland. Since Knox had studied law, he became a notary in the neighborhood around Haddington and then a tutor to the sons of local lairds (lower-ranking nobility).
Dramatic events were unfolding in Scotland during Knox's youth. The constant sea traffic between Scotland and Europe allowed Lutheran literature to be easily ...
You have reached the end of this Article Preview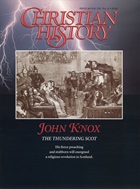 04/01/1995