John Knox and the Scottish Reformation: A Gallery of Martyrs and Architects
Patrick Hamilton
(1504?-1528)
First Protestant martyr
Scotland's first Protestant martyr was a member of the mighty Hamilton family. While some Hamilton men grew rich from their powerful positions in the church, Patrick did something different: he began to take his faith seriously.
While studying at Scotland's St. Andrews University, he became attracted to the views of Martin Luther. He wrote a book that was condemned as heretical and for a time he took refuge in Germany. He quickly returned to Scotland and began preaching the Protestant faith.
In 1528 the powerful Archbishop of St. Andrews summoned Hamilton, saying he wished to have a debate. However, it was a ruse, and before Hamilton's influential friends could muster any support, a church court hurriedly found him guilty of heresy. (While heresy trials ordinarily took weeks, Hamilton's was rushed through in a mere twelve hours.)
In contrast to the trial, the punishment was long. It took six hours for Hamilton to die by burning at the stake. A witness of the execution noted that the martyr "never gave one sign of impatience or anger, nor ever called to heaven for vengeance upon his persecutors."
Knox, who did not know Hamilton, claimed that the execution led many throughout Scotland to begin questioning the beliefs and practices of Catholicism. Or as one witness put it, "The smoke of Mr. Patrick Hamilton has infected as many as it did blow upon."
George Wishart(c.1513–1546)
His death ignited reform
When Knox met Wishart in 1545, he was deeply impressed by the tall, handsome, well-mannered young preacher who had the curious habit of washing himself in a bathtub every night.
Wishart, who had been born into a refined family with aristocratic connections, was the spokesman for Scotland's ...
You have reached the end of this Article Preview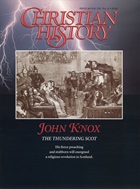 04/01/1995