Acrobat Theologian
After the Church of England broke from Rome in 1534, it needed to define what it uniquely believed. Conservatives, like King Henry VIII, wanted a church whose faith was Catholic in essentials. Many academics, particularly at Cambridge, wanted reforms that were clearly Protestant. How could these theological concerns be reconciled or balanced?
What eventually emerged was something in between, a theology that has come to characterize worldwide Anglicanism. In large part, this was the judicious work of Archbishop Thomas Cranmer, a pastoral theologian who had a genius for what we now know as the "middle way."
The Way to the Middle
The document that most clearly articulates this middle way is called the Thirty-Nine Articles; these have become the foundation of Anglican theology. They are a statement of faith based on Cranmer's Forty-Two Articles, and it can be reasonably claimed that Cranmer is the father of modern Anglicanism.
As early as 1535, agents of the king were negotiating with German Lutherans, who wanted the Church of England to subscribe to the Augsburg Confession of 1530. After months of deliberation, negotiations were broken off.
At the same time, Cranmer was busy working on a shorter statement of faith, known as the Ten Articles of 1536, which served as the basis of faith for the Church of England for the next few years. Out of them came a commentary, generally known today as the Bishops' Book (1537), which explained the main points of the Christian faith, including the Ten Articles, to ordinary members of the Church of England.
In the Ten Articles, Lutheran influence is felt in many places. In Article 5, on justification, for example, Cranmer states, "Sinners attain this justification by contrition and faith joined with ...
You have reached the end of this Article Preview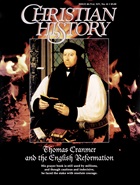 10/01/1995