Disciples of Reason
In September of 1800, in the furies of Thomas Jefferson's initial presidential campaign, the Federalist Gazette of the United States editorially branded the 57-year-old Virginian as "an enemy to pure morals and religion, and consequently an enemy to his country and his God." This biting observation teaches us at least two things: (1) that in 1800, religion was a lively and passionate concern among Americans; and (2) that in a political campaign, not every word is to be swallowed whole!
In fact, Jefferson was a religious man, as were the other founding fathers—Benjamin Franklin, George Washington, John Adams, and James Madison. Though none could be considered orthodox Christians (all were products primarily of the Enlightenment), none of them was "an enemy to God."
Freethinking Moralist
The Boston-born sage of Philadelphia, Benjamin Franklin (1706–1790), was the most lovable of the founders. Wise, witty, gregarious, curious, ingenuous, Franklin won admirers both at home and abroad. Though sometimes claimed by the Presbyterians or Episcopalians, Franklin can be rightly classified—with all our other founders—only as a deist or freethinker. That is, he would construct a creed for himself, not recite one created by others. He would test all by the mark of common sense and find his revelation not in the Bible but in Reason and Nature (always capitalized by Enlightenment thinkers).
On these grounds, Franklin strongly affirmed the existence of God, the freedom of human beings to make their own choices, and the potential value of institutional religion as a teacher and enforcer of a high moral code. But churches that focused exclusively on dogma and ignored morals infuriated Franklin. He denounced and satirized them and emphatically ...
You have reached the end of this Article Preview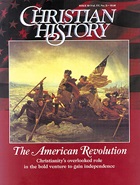 04/01/1996