The Gallery of Leaders, Evangelists, Thinkers and Movers in Baptist History
Baptists have no single historical figure like a Luther or Wesley as founder and leader. But since its beginnings men and women of faith and courage have been instrumental in developing its theology and extending its witness. A selection of examples is presented.
Hanserd Knollys ?1599–1691

Educated at Cambridge, he took Anglican orders, becoming a Puritan and then a Separatist. He emigrated to Massachusetts in 1638, but returned to London in 1641. By 1645 he had become a Baptist and led a church in London the rest of his life. Interested in education, he published Hebrew, Greek and Latin grammars, and also an exposition of the Book of Revelation. He had Fifth Monarchist sympathies, which brought him into tension with the state, leading to several spells in prison. Differences in political understanding did not prevent Knollys and William Kiffin working together as leaders among the Particular Baptists.
Benjamin Keach 1640–1704

A tailor by trade, Keach became pastor of the General Baptist church at Winslow, Buckinghamshire. He published a primer for children's education, and was tried in 1664 for its attitude to the Book of Common Prayer. Keach was pilloried and all copies of the book were burned. He rewrote his Child's Delight, and it ran to several editions.
Keach moved to London in 1668, and became a Particular Baptist, and Pastor at Horslydown, Southwark—the church which many years later was to call the young Charles H. Spurgeon to London.
Keach was an enthusiastic advocate of congregational hymn-singing. Horslydown was probably the first church in England to sing hymns, as opposed to psalms and paraphrases. Keach's hymnbook, published in 1691, provoked heated debate in the 1692 Assembly of Particular Baptists.
You have reached the end of this Article Preview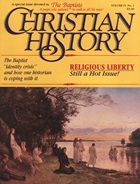 04/01/1985