One Truth, Many Tales
Tolkien and his Christian literary peers wrote for people who did not know the faith, or did not like it, or did not think it important—"a public which knows no History, no Classics, no Theology, and has almost forgotten its Bible," Dorothy L. Sayers complained.
"At its best our age is an age of searchers and discoverers, and at its worst, an age that has domesticated despair and learned to live with it happily," said Flannery O'Connor.
T. S. Eliot described the writers (and readers) of the day as "those who have never heard the Christian Faith spoken of as anything but an anachronism."
This was the reader to whom writers like Tolkien, Sayers, Eliot, O'Connor, Evelyn Waugh, and Graham Greene wrote. Yet Tolkien's books were less obviously Christian than theirs. He did see his Lord of the Rings as a "fundamentally religious and Catholic work." He even expressed some frustration that readers did not see this. But in writing Christian truth to a swiftly secularizing modern world, Tolkien took a different tack.
Where's the faith?
First, he only wrote stories. He wrote nothing directly Christian or apologetic. C. S. Lewis wrote apologetics, literary criticism, theological studies, allegories like The Great Divorce, and whatever The Screwtape Letters is. Williams wrote apologetics, biographies, histories, and theology. Sayers wrote apologetic essays like "Creed or Chaos?" and theological works like The Mind of the Maker. Waugh, Eliot, O'Connor, and Walker Percy all wrote essays on the faith and reviewed religious books for secular magazines.
These writers used their literary gifts to present the old arguments in a new way. Tolkien did not do this at all. Besides ...
You have reached the end of this Article Preview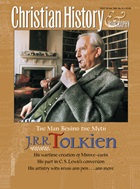 04/01/2003