Jonathan Edwards Speaks to Our Technological Age
How is Jonathan Edwards relevant today? Is he a distant hero, an evangelist, theologian, saint whom we can admire only from afar? Has the passing of time and changes in religious style put insurmountable barriers between us and him? Do we no longer have access to his keen insights except as impressive historical curiosities?
To the contrary, Edwards has a great deal to say to the contemporary world. Not only does he present powerfully the historic doctrines of the Christian faith; but he presents them with insights that specifically address some major tendencies of modern times.

Edwards lived near the beginning of our modern era. He faced the emergence of two of the major trends that have shaped the style of both our Christianity and our culture. These trends were revivalism and the scientific revolution. Because these trends were new in Edwards' day, he could see more clearly than we do how they were changing people's conceptions of the world and especially changing their perceptions of God's relationship to themselves and to the world.
True Christian Experience in the Age of Revivals
We can look first at Edwards' insight into the character of true Christian experience. The revival to which Edwards himself contributed in New England was part of a wider pietist revival. Pietism emerged in Germany in the later 1600s, spread to other countries through missionary efforts of groups such as the Moravians, and merged with renewal impulses throughout the Protestant world. In Edwards' day, these forces converged to produce a great revival in the English-speaking world, manifested in the Great Awakening in America, John Wesley's Methodism in England, and George Whitefield's work connecting the English and American awakenings. The thrust ...
You have reached the end of this Article Preview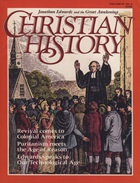 10/01/1985