Saving Souls & Bodies
For some critics, the term "holiness movement" has conjured images of navel-gazing holy rollers too interested in getting a spiritual thrill or (at most) saving souls to care about alleviating social distress. This caricature is simply not accurate. The movement's most enduring legacy is a nationwide network of missions to the socially and economically disadvantaged—primarily in inner-city neighborhoods.
Holiness leaders, like their eighteenth-century Methodist forebears, taught that sanctification does not stop in the individual heart, but must overflow into "social holiness." Just as cleansing from all sin could occur in this life (against the traditional view that it occurred after the soul left the body, to prepare the believer to stand before a holy God), the ideal of the perfect community was also for today—not to be pushed off into the hereafter.
To its critics, the reform-minded Christian perfectionism that emanated from such places as Oberlin College and the Free Will Baptist churches of the Northeastern states threatened the social fabric. For example, in Western New York, radicalized churches not only circulated anti-slavery petitions, but even hired African-American pastors and, in a few extreme cases, women.
For some, this holiness activism had its limits. Phoebe Palmer, for example, was closely associated with the anti-abolitionist faction of New York City Methodists. In spite of her friendship with Oberlin College president Charles G. Finney, she refused to permit the expression of abolitionist sentiments during her weekly holiness meetings.
The very model of a modern urban mission
But in other respects, Palmer followed through on the social implications of holiness. For example, she was greatly moved by the poverty ...
You have reached the end of this Article Preview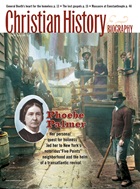 04/01/2004