Hearts in Training
In The Voyage of the Dawn Treader, one of the Narnia series, Eustace, a factual-minded, thoroughly modern boy, meets a fallen star named Ramandu. On hearing that Ramandu is a star, Eustace says, "In our world, a star is a huge ball of flaming gas." Ramandu replies, "Even in your world, my son, that is not what a star is but only what it is made of."
This distinction between scientia (knowledge, the makeup of things) and sapientia (wisdom, the significance of things) informed all of Lewis's writings, especially his fiction. Except for a brief period as an undergraduate when he tried to adopt modernist skepticism, Lewis spent his life pursuing wisdom. The pursuit led him to the philosophy of Plato and Wordsworth, but he also practiced the common sense Christianity of Samuel Johnson. Even though Lewis was a Platonist, he did not often talk of the visible world as a mere shadow of the real. In Letters to Malcolm, he says, "In fact we should never ask of anything 'Is it real?,' for everything is real." We may think of our world as a stage set, but it is a real stage set. Because he thought everything was real, Lewis could create imaginary worlds with gusto.
The good, the bad, and the ghostly
In his worlds, missing reality is the prime error. It happens in two ways: either to focus completely on facts and miss significance, or to become self-centered and miss the real beauty of creation. In Lewis's stories, the good people either possess or acquire the ability to touch reality, while the bad people are entangled in illusion. Like the inhabitants of Dante's hell, they lack the good of the intellect.
Lewis's fiction was based on his approach to reality from the beginning, ...
You have reached the end of this Article Preview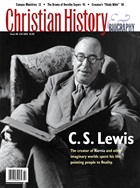 10/01/2005