Mind in Motion
He was an imaginative Belfast Irishman, in whom a cultivated Oxford accent replaced his father's oratorical brogue, and for whom Oxford was home.
He was a brilliant expositor and debater, whose powers of logical analysis, bright brisk narrative, and vivid illustration were stunning.
He was a heavyweight academic with a self-possessed forthrightness that unnerved some of his students. He worked hard and expected others to do the same. Woe to you if Lewis was your tutor and you were lazy!
He was a teacher of literature who seemed to have read all the literature there was in English and Europe's other main languages. He was once called the best-read man of his generation. He wrote effortlessly and brilliantly.
He was somewhat eccentric, careless about clothes and home comforts and quixotically meticulous in keeping promises and observing routines. In his fifties, he enjoyed three years of great happiness married to a crippled Jewish divorcée from America.
His clubbable, booming jollity masked shyness; his schoolboy humor masked seriousness; and his reading, teaching, writing, and endless dialectics masked a longing for deep and close relationships. "You'll never get to the bottom of him," his friend J. R. R. Tolkien once said.
Such was Clive Staples Lewis, "Jack" to his friends, fellow of Magdalen College, Oxford, from 1925 to 1954, and professor of medieval and Renaissance literature at Cambridge from 1954 to 1963, who died of kidney failure on November 22, 1963, a week from his 65th birthday. It was the day Kennedy was shot.
He had become a clear-headed Christian in 1931, after almost two decades of professed atheism—that is, of denying all the realities of the ...
You have reached the end of this Article Preview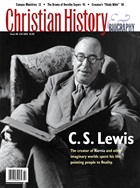 10/01/2005