Sigmund Freud and C.S. Lewis probably never met—though there is evidence that an unnamed Oxford professor called on Freud during the 15 months he lived in England before his death in 1939. If that professor was Lewis, Freud would have been 82 or 83 and Lewis 40 or 41. Lewis would by then have been a Christian for about a decade. His most important apologetic works were still in the future, but he had already begun to express his faith in symbol and metaphor (The Pilgrim's Regress and Out of the Silent Planet). Freud's major works were all behind him and his cultural legacy was already created.
If these two intellectual giants had met, their contrasting views—of God, religion, morality, truth, love, sex, suffering, and death—would have been revealed in stark contrast to each other. Though it is doubtful such a conversation ever took place, we do now have a thoughtful book that places Lewis's and Freud's fundamental ideas next to each other: Armand Nicholi's The Question of God. Nicholi has been teaching Harvard students (both undergraduates and medical students) about Freud's thought for over 30 years. Students have given his course, "Sigmund Freud & C. S. Lewis: Two Contrasting World Views," excellent ratings in a guide published by Harvard's Committee on Undergraduate Education (CUE). To quote from the CUE Guide for 1993-94, "Calling the course one of the best at Harvard, and helpful in expanding one's understanding of one's self and one's personal life, nearly all of those polled recommended [it] without hesitation."
As one of the great explainers of the modern era, Freud was to human behavior what Marx was to economics and Darwin was to biology. You simply weren't educated unless you knew the thought of these three architects of modernity. But Nicholi's students found that reading Freud's philosophical works meant enduring a sustained attack on a spiritual worldview. They asked for balance. Nicholi searched for some other thinker who had the intellectual credibility to stand up to Freud's arguments. He discovered that C. S. Lewis was the perfect foil for Freud. "When Lewis was an atheist," Nicholi told me in an interview, "he read Freud's works … and used his philosophical works as a defense of his atheism. After Lewis's conversion, many of the arguments that he answered were those very arguments raised by Freud and used by Lewis himself when he was an atheist."
A book like this could be bloodless, abstract, and easily reduced to a series of PowerPoint slides: Freud's arguments for regarding God as an illusion listed opposite Lewis's argument for the reality of God; Freud's reduction of all love to sex opposite Lewis's elaboration of the richly interconnected varieties of love; and so forth.
But Nicholi joins the world of ideas to flesh-and-blood biography. As a psychiatrist, Nicholi is sensitive to the ways life experiences shape the ways we perceive the world—and great minds are no exception. Thus Nicholi begins with beginnings:
Sigismund Schlomo Freud was an Orthodox Jewish boy raised by a stern but loving Catholic nanny—until she was ripped from him at a tender age. At age 10 he learned about his father's experience of anti-Semitism in a largely Catholic society. He began to think of his father as a coward. As an impressionable teenager, he read Ludwig Feuerbach's argument that religion "is simply the projection of human need, a fulfillment of deep-seated wishes." He spent the rest of his life working out his troubled relation with his father and the implications of Feuerbach's views.
Childhood Trauma
Jacksie Lewis was an Irish boy, embarrassed by his grandfather's highly emotional and frequently weepy sermons. When he was 9, his mother died, and shortly thereafter his unhappy father sent him and his brother to a boarding school run by a sadistic headmaster. When he was a young man, he saw the horrors of trench warfare and had his dearest friend ripped from him by World War I.
These early life experiences seem to explain why Lewis, like Freud, turned away from belief and toward aggressive atheism. Yet late in life, Lewis was content, fundamentally happy, and a believer. Lewis was offered an Order of the British Empire, one of Britain's highest civilian honors, and (unlike his friend J. R. R. Tolkien) turned it down. This is the picture of self-confidence. Freud was bitter and had made enemies of his onetime disciples. And despite his enormous influence, he was angry that he hadn't received greater recognition. He believed he was due a Nobel Prize. This is the picture of depression.
Nicholi's book proceeds in an orderly fashion: from biographical introduction to topical comparisons of Freud and Lewis on a variety of issues of belief and behavior. Is there a Creator? Is there a universal moral law? What is the source of happiness? The meaning of love? Of sex? Of suffering? Of death?
Yet in these topical investigations, Nicholi never lets go of the biographical thread, but weaves it through every chapter. He is thoroughly conversant with his subjects' personal papers and letters. From this familiarity emerges an intimate understanding of how belief and biography are entwined.
Freud, who fought religion as an illusion, emerges as a disappointed soul on a never-ending search for acceptance and meaning, but never quite seeing the full picture. Lewis, who wrote fantasy stories from childhood on, emerges as a realist, with tremendous insight into his own psyche. He wrote of a character in one of his adolescent tragedies: It was "a projection of myself; he voiced that sense of priggish superiority whereby I was, unfortunately, beginning to compensate myself for my unhappiness."
Amazingly, Lewis got such insight into himself without the help of Freud.
Related Elsewhere
A ready-to-download Bible Study on this article is available at ChristianBibleStudies.com. These unique Bible studies use articles from current issues of Christianity Today to prompt thought-provoking discussions in adult Sunday school classes or small groups.
Also appearing on our site today:
Two Cultural GiantsBoth Sigmund Freud and C.S. Lewis were emotionally wounded as boys and struggled with depression as men. But a worldview can make a tremendous difference. An interview with Armand Nicholi Jr.
The Question of God by Armand Nicholi Jr. is available at Amazon.com.
Related articles by Nicholi include:
When Worldviews Collide (Part One, Part Two) — Christian Leadership Ministries' The Real Issue
How Does the World View of the Scientist & the Clinician Influence Their Work? — Perspectives on Science and Christian Faith
In 1999, Christianity Today sister publication Books & Culture interviewed Paul Vitz, the author of Sigmund Freud's Christian Unconscious (1988) about Freud and his legacy. Another Books & Culture article looked at C. S. Lewis' writings in relationship with postmodernists including Freud.
If it's Lewis you're interested in, Into the Wardrobe should fill your every desire. Beliefnet also has a series of Lewis-centric articles, including a C.S. Lewis essay contest.
The Discovery Institute's C.S. Lewis and Public Life site is another wonderful resource of papers about and by Lewis.
Christian History, another Christianity Today sister publication, profiled Lewis for its issue on "The 10 Most Influential Christians of the Twentieth Century."
Still hungry for more? You'll probably never have the time to read everything linked at the C.S. Lewis Mega-Links page.
Article continues below
Previous Christianity Today articles on C.S. Lewis and his writings include:
Wisdom in a Time of WarWhat Oswald Chambers and C.S. Lewis teach us about living through the long battle with terrorism. (Jan. 4, 2002)
Forget 'Normal'C.S. Lewis's warning against panic during World War II resonates in our new crisis. (Oct. 19, 2001)
Mere Marketing?Publisher, estate under fire for handling of C.S. Lewis's identity. (August 6, 2001)
Aslan Is Still on the MoveThere's too little evidence to prove that anyone is 'de-Christianizing' C.S. Lewis. (August 6, 2001)
Myth MattersC. S. Lewis bequeathed us a method and a language for sharing the gospel with the modern and postmodern world. (April 17, 2001)
Spring in Purgatory: Dante, Botticelli, C. S. Lewis, and a Lost MasterpieceFor slightly over five hundred years, the most famous and popular illustration of Dante's Divine Comedy has remained effectively "lost." (Feb. 7, 2000)
Walking Where Lewis WalkedMy reluctant entry into the world of pilgrimage. (Feb. 7, 2000)
C.S. Lewis on ChristmasLewis summed up Christmas in one sentence: "The Son of God became a man to enable men to become the sons of God." (December 20, 1999)
ReflectionsClive Staples Lewis in his lifetime gave us many writings that explicate the Christian faith and walk. (Nov. 16, 1998)
Still Surprised by LewisWhy this nonevangelical Oxford don has become our patron saint. (Sept. 7, 1998)
Jack Is BackThe search for the historical Lewis. (Feb. 3, 1997)
Have something to add about this? See something we missed? Share your feedback here.
Our digital archives are a work in progress. Let us know if corrections need to be made.
This article is from the April 22 2002 issue.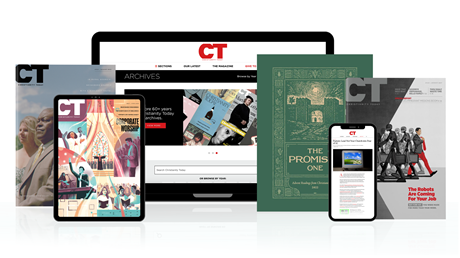 Subscribe to Christianity Today and get access to this article plus 65+ years of archives.
Home delivery of CT magazine
Complete access to articles on ChristianityToday.com
Over 120 years of magazine archives plus full access to all of CT's online archives
Subscribe Now
The Dour Analyst and the Joyous Christian
The Dour Analyst and the Joyous Christian