Many schools of psychology have come and gone since Freud died. And yet he has a cultural legacy. What is that legacy?
The most important part of Freud's legacy is his influence on our language. We use terms—ego, repression, projection, neurosis, sibling rivalry, and Freudian slip—without realizing their source. In addition, his theories influence how we interpret human behavior—in history, literary criticism, biography, sociology, medicine, education, and ethics. We now take for granted that early life experiences influence how we think and feel and behave as adults. For example, before Freud, we had little awareness of the traumatic effects of child sexual abuse. Now we read of such cases every day. His influence is so profound, historians refer to the 20th century as "the century of Freud."
Would Lewis have agreed that childhood experiences influence us?
Yes. He was acutely aware of the influence of his early childhood, especially his mother's death when he was 9 years old. Lewis never fully recovered. In his autobiography, he writes extensively about both the positive and negative early experiences that shaped his life.
You write that "the early life experiences show striking parallelism." If those experiences of love and loss were so similar, why did these men turn out so different?
Until Lewis came to a personal faith, they were very much alike—gifted intellectually, introspective, highly critical and wary of others, clinically depressed, pessimistic, gloomy and hostile toward their fathers and toward all authority—especially to the notion of an Ultimate Authority, etc. Then, in his early 30s, Lewis had a conversion experience that transformed his life.
You've done empirical research on the religious conversions of university students. What did you learn from comparing the students' conversions with Lewis's?
Both Lewis and the students observed in believers some quality that was missing in their own lives. Lewis observed this in other Oxford faculty members and in the lives of some of the great writers he admired. The students observed this in some of their peers who possessed a strong faith. Both Lewis and the students made a conscious effort to open their minds and look at the evidence. Lewis began reading the New Testament in Greek and the students attended Bible study groups on campus. Both Lewis and the students came to faith in the context of a modern, liberal university where the climate tends to be hostile. The spiritual worldview is often thought to be only for the ignorant masses, a psychological crutch that never works. Some consider it, as did Freud, an expression of pathology.
But Lewis turned out to be better adjusted as a result.
Both Lewis and the students functioned more effectively after their conversion experience. The students who underwent what they called a "religious conversion" reported a radical change in lifestyle—an abrupt halt in the use of drugs, an enhanced self-image, a more forgiving spirit toward others and toward themselves, better control of impulses, an increased capacity for establishing "close, satisfying relationships," a marked change in their mood or affect, and a lessening of what they referred to as "existential despair."
Friends who knew Lewis before and after his conversion noted many of the same changes in him. The quality of his relationships changed. He became more outgoing. He said his conversion was the beginning of his turning outward. He had a new evaluation of people—he realized every human being would live forever, long after our institutions, governments, and nations are long gone—and therefore are of infinitely more value.
You devote a chapter to Freud and Lewis on sex. Who was better adjusted sexually?
Though we think of Freud as the father of the new sexuality, he lived a rather restricted sexual life. His letters and his biographers indicate he lived the traditional sexual code of sex within marriage with complete fidelity or abstinence. Because of his long medical training he could not afford to marry until about 30 years old. During a long, four-year engagement, most biographers agree, he did not have sexual relations with his fiancée. Freud's official biographer noted that Freud remained faithful throughout his marriage. His sexual life during marriage appeared to be quite restricted—he wrote to a friend when 37 years old that "we are now living in abstinence." Scholars give various reasons for this abstinence.
Lewis gives us few details of his sexual life before his conversion. When in the army, he avoided visiting prostitutes—perhaps out of fear of disease. He describes a robust sexual desire that he became aware of in his early teens. Before his conversion, he speaks of trying to live a moral life but finding that he continually failed in the areas of "lust and anger." And when he began to look at his life seriously, he wrote that he was "appalled" by the "zoo of lusts" within him. When he finally married in his 50s, he had a very fulfilling sexual life. He wrote later that he and his wife "feasted on love; every mode of it . …No cranny of heart or body remained unsatisfied." His wife wrote: "You'd think we were a honeymoon couple in our early 20s."
Freud famously asked, "What do women want?" Lewis, on the other hand, carried on a tremendous correspondence with women. Did either man ever come to understand the opposite sex?
Freud acknowledged that he had difficulty understanding women. He referred to the sexuality of women as a "Dark Continent." Many of his theories have outraged feminists, and he is often accused of being prejudiced against women. Yet he had many women followers, and many of the first psychoanalysts were women with whom he had a good working relationship.
Lewis also had many women friends whom he admired and with whom he corresponded. He appeared to have an unusual understanding of women, perhaps not only from the great literature, but also from living with his surrogate mother, Mrs. Moore, and her daughter. His scholarly work The Allegory of Love focused on the love between a man and a woman, and his popular writings on modern marriage and the family contain a great deal of clinical insight and understanding.
Freud is known for saying that the well-adjusted adult needs the ability to love and to work. How would you compare Freud's and Lewis's understanding of work?
Both worked hard at their professions, both wrote prolifically. Freud and Lewis, before his conversion, were driven by a strong desire to be famous. When Freud was 17 years old he advised a friend to save his [Freud's] letters because someday he would be famous. During his self-analysis, he related his desire to be famous to a story told him as a child that an old peasant woman prophesied that his mother had given birth to a great man. When in his 50s, he said that "in view of the inevitable ingratitude of humanity … I certainly do not work because of the expectation of any reward or fame." Yet his diary and his letters indicate the desire remained.
Before his conversion, C. S. Lewis had "dreams of success and fame." After his conversion, Lewis considered his desire to be famous as a writer to be a serious flaw. The desire to be better known than others fostered pride. When he concentrated on writing well and forgot about becoming famous, he both wrote well and became recognized for it—perhaps reinforcing his oft-repeated principle that when first things are put first, second things don't decrease; they increase.
Could you compare Lewis and Freud on the subject of happiness?
Both men suffered from clinical depression. Lewis also showed signs of clinical depression before his conversion. In his diary and letters, he appears irritable, pessimistic, gloomy, and hopeless. He says his atheism was based on his "very pessimistic view of existence." After his conversion, all of this changed. He said joy was "the central story of my life." His friends then described him as cheerful and outgoing. Lewis found happiness in his newly established relationship with the Creator. Lewis said that God cannot give us "happiness apart from Himself, because it is not there, there is no such thing." His new faith helped him overcome his depression. Recent medical research has shed considerable light on the positive effects of faith on treating depression.
Freud, on the other hand, used cocaine when in his 20s for a period of time to lift his depression. He equated happiness with pleasure, and in his mind the greatest source of pleasure is instinctual gratification, sexual pleasure. And because that occurs only periodically, he thinks that it's not in the cards for human beings to be happy.
Lewis was certainly no foe of pleasure.
Lewis divides happiness into many categories, but he says they all come from the same source. He knew the pleasure of just watching a sunset or listening to great music or taking a hot bath. He seemed to have the capacity to enjoy the little pleasures in life. And he said that half of all happiness comes from friendships.
Freud, on the other hand, seemed to have a limited capacity to enjoy the ordinary pleasures. And he didn't express much happiness in his letters. He obviously found happiness with his children and his family, but most of his writings indicate that life is not a particularly happy experience.
Related Elsewhere
Also appearing on our site today:
The Dour Analyst and the Joyous ChristianIn the realm of mental balance and personal peace, Sigmund Freud had nothing on C.S. Lewis.
The Question of God by Armand Nicholi Jr. is available at Amazon.com.
A Bible study based on this article is available in Christianity Today'sCurrent Issue Bible Study Series. This unique series uses articles from current issues of the magazine to prompt thought-provoking discussions in adult Sunday school classes or small groups.
Related articles by Nicholi include:
When Worldviews Collide (Part One, Part Two) — Christian Leadership Ministries' The Real Issue
Article continues below
How Does the World View of the Scientist & the Clinician Influence Their Work? — Perspectives on Science and Christian Faith
In 1999, Christianity Today sister publication Books & Culture interviewed Paul Vitz, the author of Sigmund Freud's Christian Unconscious (1988) about Freud and his legacy. Another Books & Culture article looked at C. S. Lewis' writings in relationship with postmodernists including Freud.
If it's Lewis you're interested in, Into the Wardrobe should fill your every desire. Beliefnet also has a series of Lewis-centric articles, including a C.S. Lewis essay contest.
The Discovery Institute's C.S. Lewis and Public Life site is another wonderful resource of papers about and by Lewis.
Christian History, another Christianity Today sister publication, profiled Lewis for its issue on "The 10 Most Influential Christians of the Twentieth Century."
Still hungry for more? You'll probably never have the time to read everything linked at the C.S. Lewis Mega-Links page.
Previous Christianity Today articles on C.S. Lewis and his writings include:
Wisdom in a Time of WarWhat Oswald Chambers and C.S. Lewis teach us about living through the long battle with terrorism. (Jan. 4, 2002)
Forget 'Normal'C.S. Lewis's warning against panic during World War II resonates in our new crisis. (Oct. 19, 2001)
Mere Marketing?Publisher, estate under fire for handling of C.S. Lewis's identity. (August 6, 2001)
Aslan Is Still on the MoveThere's too little evidence to prove that anyone is 'de-Christianizing' C.S. Lewis. (August 6, 2001)
Myth MattersC. S. Lewis bequeathed us a method and a language for sharing the gospel with the modern and postmodern world. (April 17, 2001)
Spring in Purgatory: Dante, Botticelli, C. S. Lewis, and a Lost MasterpieceFor slightly over five hundred years, the most famous and popular illustration of Dante's Divine Comedy has remained effectively "lost." (Feb. 7, 2000)
Walking Where Lewis WalkedMy reluctant entry into the world of pilgrimage. (Feb. 7, 2000)
C.S. Lewis on ChristmasLewis summed up Christmas in one sentence: "The Son of God became a man to enable men to become the sons of God." (December 20, 1999)
ReflectionsClive Staples Lewis in his lifetime gave us many writings that explicate the Christian faith and walk. (Nov. 16, 1998)
Still Surprised by LewisWhy this nonevangelical Oxford don has become our patron saint. (Sept. 7, 1998)
Jack Is BackThe search for the historical Lewis. (Feb. 3, 1997)
Have something to add about this? See something we missed? Share your feedback here.
Our digital archives are a work in progress. Let us know if corrections need to be made.
This article is from the April 22 2002 issue.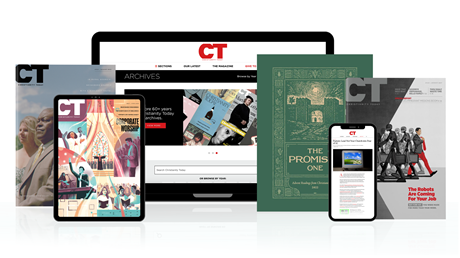 Annual & Monthly subscriptions available.
Print & Digital Issues of CT magazine
Complete access to every article on ChristianityToday.com
Unlimited access to 65+ years of CT's online archives
Member-only special issues
Subscribe
Two Cultural Giants
Two Cultural Giants