As I found my seat in the ornate East Room of the White House, memories flared. I had been in this room hundreds of times during the years I served President Nixon. Today I was here for a much different reason: To hear President Bush speak about human cloning.
I confess to having become somewhat jaded; America, I thought, had become so post-Christian that I would never again hear an American president explicitly embrace Christian teaching on a profound moral issue. President Bush proved me wrong, and in the process, I was given a remarkable example of God's sovereignty.
Standing at the podium, surrounded by people in wheelchairs, President Bush described the great advances in medicine—the cracking of the genetic code and potential victories over feared diseases. But then came a warning.
"As we seek to improve human life," he said, "we must always preserve human dignity. Advances in medical technology must never come at the expense of human conscience. As we seek what is possible, we must also seek what is right, and we must not forget that even the most noble ends do not justify any means."
As I listened, my spine tingled—and not only from the President's inspiring words. Across the aisle I spotted ethicist Nigel M. de S. Cameron, whom I met 20 years before when he was a freshly minted Ph.D. running a study center in Scotland. We became friends, and I soon discovered his keen interest in bioethics.
At that time, few people even knew what the term meant, or thought about genetic engineering or cloning. For activists, abortion was the life issue. Over coffee one evening in Edinburgh, Nigel told me bioethics would emerge as the moral issue of the new millennium. He was so certain of this that he helped found the world's first bioethics journal, which began to awaken the Christian world. Nigel was like a sentry on the forward outpost, spotting the real enemy: the prospect of technology unleashed from moral restraints.
Eighteen months ago Nigel became dean of the Wilberforce Forum, Prison Fellowship's worldview policy group, and immediately set out—working with Sen. Sam Brownback (R-Kan.), Rep. Dave Weldon (R-Fla.), and others—to build a broad-based coalition. Gazing around the East Room, I realized many guests were there through Nigel's efforts.
There must have been many times over the years that Nigel became frustrated, wondering if he was wasting his time discussing an issue that seemed remote to so many. But here he was today listening to the most powerful man in the world articulating, in the manner of a moral theologian, the case he had long fought for.
My eye then fell on another guest: Joni Eareckson Tada. As a teenager, Joni dove into shallow waters in Chesapeake Bay, tragically breaking her neck. Doomed to a life of quadriplegia in a wheelchair, Joni might have been consumed with self-pity. Instead, Joni is one of the most cheerful people I've ever known.
When President Bush finished speaking, he stepped down from the podium, embraced Joni, and kissed her. At that moment, it struck me that one reason God may have allowed Joni's tragedy was this moment of witness—not only to the President, but also to the world. Joni is the Christian counterpoint to Christopher Reeve and other celebrities who make emotionally appealing but dangerously utilitarian arguments for human cloning. Joni opposes the taking of human life for medical research, even if it could lead to relief for her suffering. She understands that abortion, euthanasia, cloning, and embryonic stem-cell research are all related to one great question: What does it mean to be human?
That single hour in the White House provides a dramatic answer to two frequently asked questions. The first is the age-old challenge: how a loving God can allow such suffering. Certainly, there is sin and suffering in our fallen world—from our own making. But as Joni's life and witness prove, God redeems that suffering.
The second question is one I hear with increasing frequency in our post-Christian culture: What difference can one person make? The problems are so huge; we feel helpless, and so we do nothing.
That response is a cop-out. Nigel did not think that way, nor did Joni. They pressed on, confident that a sovereign God would use them, as indeed he has. They remind us that God sets each of us in a particular time and place for a precise purpose. We must strengthen our resolve, no matter the obstacles, to fulfill that purpose in a fallen world.
Related Elsewhere
For current news on stem-cell research and cloning, see Yahoo full coverage.
Christianity Today's Life Ethics archive and sister publication Books & Culture's Science Pages have more perspective on bioethics.
Nigel M. de S. Cameron is director of the Council for Biotechnology Policy at the Wilberforce Forum. In 1995, he wrote Christianity Today's "Doctors Under OathModern medicine has misplaced its moral compass. Can Hippocrates help?" He also interviewed Leon Kass, head of the President's Council on Bioethics for the June issue.
Article continues below
Joni Eareckson Tada is the founder and president of Joni and Friends, an organization accelerating Christian ministry in the disability community.
Previous Christianity Today coverage of bioethics includes:
Federal Funds Approved to Study Fetal Stem CellsLife ethics advocates troubled by the discrepancy that allows days-old embryos more protection than more mature fetuses. (July 10, 2002)
Defender of DignityLeon Kass, head of the President's Council on Bioethics, hopes to thwart the business-biomedical agenda. (June 7, 2002)
Goodbye, DollyWe need nothing less than a total ban on human cloning. (May 15, 2002)
Weblog: 'All Human Cloning Is Wrong,' Says BushPublic is 4-to-1 against all human cloning, but Senate is evenly split on comprehensive ban. (April 11, 2002)
Weblog: The Prolife PushIt's 2002, time to ban cloning. (January 15, 2002)
New Coalition Rallies Against Human CloningAfter Advanced Cell Technology announcement, sharp criticism comes from all sides. (December 20, 2001)
Books & Culture Corner: "Daddy, What Is the Soul?"Does the church have an answer? (December 10, 2001)
Books & Culture Corner: 'We Now Know'The boast of imperial science. (December 3, 2001)
Opinion Roundup: 'Only Cellular Life'?Christians, leaders, and bioethics watchdogs react to the announcement that human embryos have been cloned. (November 29, 2001)
Weblog: Human Cloning's 'Success'Human embryos cloned for 1st time. (November 26, 2001)
Books & Culture Corner: "24 Cow Clones, All Normal" … Oh yes, and a few cloned human embryos that died. (November 26, 2001)
The New TyrannyBiotechnology threatens to turn humanity into raw material. (Oct. 5, 2001)
Gen-Etiquette | Scientists may be mapping the genome, but it will be up to us to determine where the map will lead. (Oct. 4, 2001)
Manipulating the Linguistic CodeReligious language falling into the hands of scientists can be a fearful thing. (Oct. 4, 2001)
Times FiftyCan a clone be an individual? A short story. (Oct. 2, 2001)
The Genome DoctorThe director of the National Human Genome Research Institute answers questions about the morality of his work. (Oct. 1, 2001)
Wanna Buy a Bioethicist?Some corporations have discovered that bioethics makes good public relations. (Sep. 28, 2001)
A Matter of Life and DeathWhy shouldn't we use our embryos and genes to make our lives better? The world awaits a Christian answer. (Sep. 28, 2001)
House Backs Human Cloning BanScientists say they'll go ahead anyway. (August 27, 2001)
Article continues below
Embryos Split ProlifersBush decision pleases some, keeps door open for disputed research. (August 27, 2001)
Two CheersPresident Bush's stem-cell decision is better than the fatal cure many sought. (August 10, 2001)
House of Lords Legalizes Human Embryo CloningReligious leaders' protests go unheeded by lawmakers. (Feb. 2, 2001)
Britain Debates Cloning of Human EmbryosScientists want steady stream of stem cells for "therapeutic" purposes. (Nov. 22, 2000)
Tissue of Lies?Latest stem-cell research shows no urgent need to destroy human embryos for the cause of science. (Sept. 28, 2000)
Beyond the Impasse to What?Stem-cell research may not need human embryos after all. But why are we researching in the first place? (Aug. 18, 2000)
Thus Spoke SupermanTroubling language frames the stem-cell debate. (June 13, 2000)
New Stem-Cell Research Guidelines CriticizedNIH guidelines skirt ethical issues about embryo destruction, charge bioethicists. (Feb. 7, 2000)
Human Embryo Research Resisted (August 9, 1999)
Editorial: The Biotech Temptation (July 12, 1999)
Embryo Research Contested (May 24, 1999)
Stop Cloning Around (April 27, 1997)
Recent Charles Colson columns for Christianity Today include:
The Wages of SecularismNew laws won't prevent another Enron. (June 4, 2002)
More Doctrine, Not LessWe need to proclaim truth to a truth-impaired generation. (April 15, 2002)
Post-Truth SocietyThe recent trend of lying is no accident. (March 4, 2002)
Drawing the Battle LinesWe need to be informed and discerning about the Islamic worldview. (Jan. 9, 2002)
Wake-up CallIf September 11 was a divine warning, it's God's people who are being warned. (Nov. 5, 2001)
The New TyrannyBiotechnology threatens to turn humanity into raw material. (Oct. 5, 2001)
Merchants of CoolWe should be angry that the media hawks violence and that parents allow it. (June 6, 2001)
Slouching into SlothThe XFL is but the latest sign of the coarsening of our culture. (Apr. 17, 2001)
Checks and (out of) BalanceMoral truth is in jeopardy when the courts enter the business of making law. (Feb. 27, 2001)
Pander PoliticsPoll-driven elections turn voters into self-seeking consumers.(Jan. 3, 2001)
Neighborhood OutpostChanging a culture takes more than politics. (Nov.8, 2000)
MAD No MoreIn this post-Cold War era, it's time to rethink our nation's defensive strategy. (Sept. 27, 2000)
Salad-Bar ChristianityToo many believers pick and choose their own truths. (Aug. 8, 2000)
A Healthy 'Cult'A lively response by one unusual audience shows how God's power transforms culture. (June 12, 2000)
Have something to add about this? See something we missed? Share your feedback here.
Charles Colson
Charles Colson was the founder of Prison Fellowship Ministries, an outreach to convicts, victims of crime, and justice officers. Colson, who converted to Christianity before he was indicted on Watergate-related charges, became one of evangelicalism's most influential voices. His books included Born Again and How Now Shall We Live? A Christianity Today columnist since 1985, Colson died in 2012.
Previous Charles Colson Columns:
Our digital archives are a work in progress. Let us know if corrections need to be made.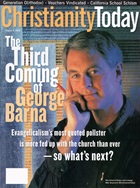 This article is from the August 5 2002 issue.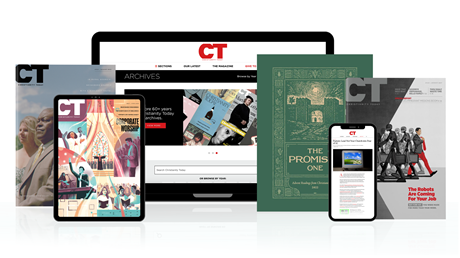 Subscribe to Christianity Today and get access to this article plus 65+ years of archives.
Home delivery of CT magazine
Complete access to articles on ChristianityToday.com
Over 120 years of magazine archives plus full access to all of CT's online archives
Subscribe Now
Undaunted
Undaunted