The Magazine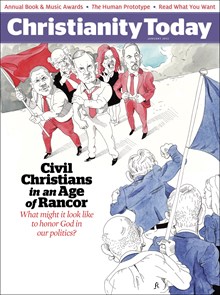 Read CT online anywhere you go.
Subscribers get full print and digital access, including:
10 award-winning print issues
PDFs of each issue
Full web access to ChristianityToday.com
60+ years of magazine archives
Table of Contents
In Every Issue
Natural Length Reading: Christianity Today Launches eBooks
The magazine is now essential in another way.
How Bethany Hoang Was Wired for Justice
The director of IJM Institute for International Justice Mission shines the spotlight on modern-day slavery.
Also in this Issue:
Carrots and Sticking Points
One Leap after Another
The Music Awards
Online Poll
A Film Finds 'Higher Ground'
Epic Farewell
Two Minutes With ... Michael W. Smith
Books to Note
More Media