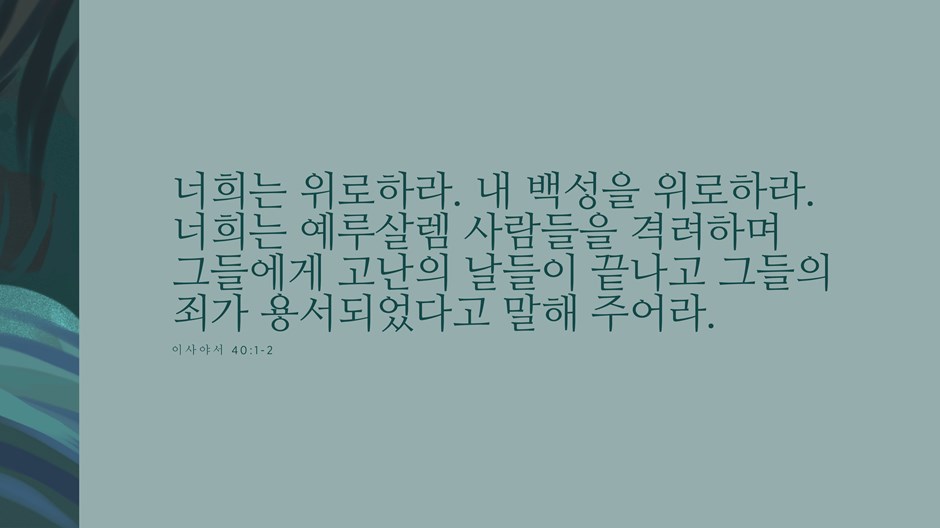 여기를 클릭해서 '성탄절에 전하는 복음' 묵상 본문을 다운 받으세요.
오늘의 말씀: 이사야 40:1-5
우리가 이 아름다운 구절에 대한 통찰을 얻고자 할 때, 이 구절이 유대인 공동체에 어떤 의미인지를 보여 주는 창을 통해 보면 이 구절의 맥락과 의의를 더 잘 이해하는 데 도움이 될 것입니다. 전 세계 유대인들은 기독교 성구집과 비슷한 주간 성경낭독 주기를 따릅니다. 한여름에 이 주기의 가장 어두운 몇 주간이 티샤베아브(Tisha B'Av)에서 절정에 이릅니다. 이날은 유대력에서 가장 슬픈 날입니다. 이날 그들은 예루살렘 성전의 1차 파괴와 2차 파괴를 기억합니다. 티샤베아브는 또 유대 역사 전반에 걸쳐 일어난 다른 수많은 비극을 기억하는 날입니다. 이날은 금식과 애도의 날입니다. 함께 모여 애가를 낭독하고, 이스라엘의 죄를 하나님 앞에 낱낱이 내려놓습니다.
하지만 이것이 이야기의 끝이 아닙니다. 티샤베아브가 끝나고 성경낭독 주기는 7주간의 위로로 이어집니다. 그리고 이것은 유대인의 새해 로쉬 하샤나(Rosh Hashanah)에서 절정에 이릅니다. 이사야 40:1–26은 티샤베아브 이후 한 주간 동안 낭독되는 지정 본문으로, 심판이 최종의 말이 아님을 다시 일깨워 줍니다. 해마다 유대인들은 하나님이 꾸짖으시는 어두운 길을 걷습니다. 그리고 그 다음에 그들은 결국 하나님의 은혜와 용서가 승리한다는 것을 마음에 새깁니다. 그들은 재와 절망의 시간에서 벗어나 하나님의 변함없는 사랑의 새로운 약속에 이릅니다.
이사야는 아시리아 제국의 확장과 이스라엘 왕국(과 결국 유다 왕국)의 소멸 시기에 기록을 남겼습니다. 동요와 비극의 이 시기를 이사야는 잊을 수 없는 이미지로 그려냅니다. 이사야는 이 시기가 이스라엘의 최종 운명이 아님을 알고 있었습니다. 회복에 대한 그의 묘사도 똑같이 생생한 이미지로 펼쳐지며, 하나님이 그들 가운데 함께하신다는 것을 의심하여 전투에서 포위당한 사람들에게 희망과 끈기를 불어넣어 줍니다.
이사야의 말은 또한 신약성경에서 하나님의 계시의 정점과 세례 요한이 했던 역할을 가리키고 있습니다. 요한이 이사야의 바로 그 "광야에서 외치는 소리"였습니다(마태복음 3:3). 예루살렘의 복역이 끝나고 죄를 지은 벌도 다 받았다는 말(2절)이 언젠가는, 예수님이 이 땅의 모든 사람이 이제 하나님과의 언약 관계에 초대되었다고 선포하셨듯이, 모든 민족에게도 해당될 것입니다.
예수님의 삶과 죽음과 부활로 시작된 이 새 언약은 이스라엘이 오래전부터 알고 있던 언약을 반영합니다. 죄의 영향들이 남아 있기는 하지만, 당신의 백성에 대한 하나님의 용서와 약속은 파도가 해안에 부딪히듯 갱신되고 또 갱신됩니다. 이사야가 예언한 대로, 하나님의 영광의 완전한 계시를 기다리는 우리가 하나님의 임재의 위로를 꼭 붙잡기를 바랍니다.
젠 로스너(JEN ROSNER) Fuller Theological Seminary의 조직신학 부교수이자 Find Messiah: A Journey Into the Jewishness of the Gospel의 저자입니다.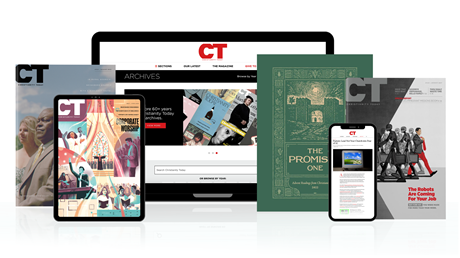 Subscribe to Christianity Today and get access to this article plus 65+ years of archives.
Home delivery of CT magazine
Complete access to articles on ChristianityToday.com
Over 120 years of magazine archives plus full access to all of CT's online archives
Subscribe Now
나의 백성을 위로하여라
나의 백성을 위로하여라