Reborn in Order to Renew
It is customary to speak of the material principle and the formal principle of the Protestant Reformation. The material principle answers the question, "How are sinful human beings saved or justified before a holy God?" The answer: on the basis of Christ's death alone, made possible by grace alone and received by distraught sinners by faith alone. This is the content of the gospel, the "material" of Christian life and thought as preached by Luther and Calvin.

The formal principle has to do with authority. On what basis can one know that God is gracious, that He freely wants to have mercy on people? The answer: on the basis of scripture alone.
Sweeping changes took place in the church following such theological reformations. There was no need for indulgences and purgatory. The teaching authority of the Pope was replaced by the authority of scripture alone. The mass was shorn of any notion of a redeeming sacrifice. It was now celebrated as a thanksgiving for a redeeming sacrifice completed. The words of institution, "This is my body… This is my blood" were more proclamation than consecration. The list could go on. The material of the faith and the formal character of authority underwent identical changes. They were simplified and made single: one redemption, namely by grace alone; one authority, namely scripture alone.
The twin principles of the Reformation figured highly in Pietism but not without change and development. The language of salvation changed from its forensic, legal character to a more biological and organic type of expression. No Pietist would deny or disregard the gospel of the justification of a sinner by the free grace of God. But a Pietist would express reservation as to the sufficiency of the language of justification ...
You have reached the end of this Article Preview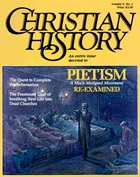 04/01/1986