The Bread of God's Book
Everything Bernard of Clairvaux was involved in—promoting the monastic life, preaching crusades, condemning heretics, advising popes, intervening with kings—sounds so fully "medieval" that it seems strange that Protestant pastors of the Reformation era would respond favorably to this zealous 12th century Catholic monk. The reason lies mostly in Bernard's emphasis on the Bible. From the time of his entrance into the monastic life around 1113 until his death 40 years later, Bernard spent more than half of each waking day reading, singing, and meditating on Holy Scripture.
Life Around the Word
Holy Scripture was the focal point of Bernard's life. This was not unique to him; he shared this practice with thousands of other devout monks. Bernard belonged to the Cistercians, an order of reformed Benedictine monks dedicated to the restoration of the ancient discipline in complete solitude and isolation. Their lives were devoted to prayer, and they assembled in choir eight times each day. Their days began long before sunrise.
For Benedictines prayer meant, and still means, the saying or chanting of Scripture, especially the Psalms. Some biblical verses and stanzas were chanted every day of their lives. But at the very least all 150 Psalms were recited aloud once a week, in a recurring pattern that shaped their whole inner life.
The Psalms, though the heart of Benedictine prayer, only marked the beginning. All medieval churchmen learned to read (which means, learned to read Latin) by way of the Bible. The language of Scripture was therefore imprinted upon their earliest memories, and they could hardly express themselves apart from the language of Scripture. Everything they wrote, from treatises and sermons to letters and poems, echoed ...
You have reached the end of this Article Preview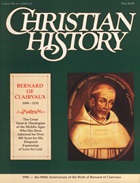 10/01/1989