What Did Spurgeon Believe?
Charles Spurgeon thought through his theology for himself. Taking over ideas he had not sifted and mastered was foreign to him. When Spurgeon reached unconventional conclusions, he did not shrink from implementing them, even when this was quite difficult.
Baptists had a long tradition of ordaining ministers, for example, but Spurgeon managed to get his church to omit this step—he never was ordained. He campaigned arduously to do without the customary title, Reverend, and he eventually succeeded in replacing it with Pastor.
Features of His Theology
Spurgeon considered his objections to ordination and the title Reverend as being scripturally based, a constant feature of his theology. As he put it, "I like to read my Bible so as never to have to blink when I approach a text. I like to have a theology which enables me to read [the Bible] right through from beginning to end, and to say, 'I am as pleased with that text as I am with the other.' "
Next, Spurgeon's theology was all the more radically biblical for being unsystematic. In the late 1850s he tried to dovetail biblical teaching on human responsibility with his doctrine of election. By 1860 he became convinced it couldn't be done; something had to yield. Since both doctrines were woven into the fabric of his Bible, however, Spurgeon decided to not sacrifice either. Instead, he sacrificed the possibility of a thoroughly systematic theology.
Spurgeon expressed his approach in a forthright introduction to a sermon on election (no. 303):
"It has been my earnest endeavor ever since I have preached the Word, never to keep back a single doctrine which I believe to be taught of God. It is time that we had done with the old and rusty systems that have so long curbed the freeness of religious ...
You have reached the end of this Article Preview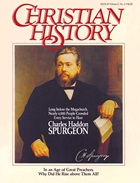 01/01/1991