Dietrich Bonhoeffer: Did You Know?
Dietrich Bonhoeffer was a twin. (He was born just before his twin sister, Sabine.)
Dietrich's father, Karl, was Berlin's leading psychiatrist and neurologist from 1912 until his death in 1948.
Dietrich was so skilled at playing the piano that for a time he and his parents thought he might become a professional musician.
At 14, Bonhoeffer announced matter-of-factly that he was going to become a theologian.
Bonhoeffer earned his doctorate in theology when he was only 21.
Though later he was an outspoken advocate of pacifism, Bonhoeffer was an enthusiastic fan of bullfighting. He developed the passion while serving as assistant pastor of a German-speaking congregation in Barcelona, Spain.
By the end of 1930, the year before Bonhoeffer was ordained, church seminaries were complaining that over half the candidates for ordination were followers of Hitler.
In 1933, when the government instigated a one-day boycott of Jewish-owned businesses, Bonhoeffer's grandmother broke through a cordon of SS officers to buy strawberries from a Jewish store.
In his short lifetime, Bonhoeffer traveled widely. He visited Cuba, Mexico, Italy, Libya, Denmark, and Sweden, among other countries, and he lived for a time in Spain, in England, and in the United States.
Bonhoeffer taught a confirmation class in what he described as "about the worst area of Berlin," yet he moved into that neighborhood so he could spend more time with the boys.
Bonhoeffer was fascinated by Gandhi's methods of nonviolent resistance. He asked for—and received—permission to visit Gandhi and live at his ashram. The two never met, however, because the crisis in Germany demanded Bonhoeffer's attention.
Bonhoeffer served as a member of ...
You have reached the end of this Article Preview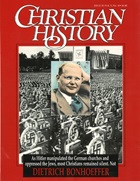 10/01/1991