The Life and Death of a Modern Martyr
Born into privilege, Dietrich Bonhoeffer was headed toward a brilliant career as a theologian. Then he came to see life "from the perspective of those who suffer." In Nazi Germany, that cost him his life.
In 1942, Lutheran pastor Dietrich Bonhoeffer sent a Christmas gift to his family and his friends who were involved in a plot to kill Hitler. It was an essay, titled "After Ten Years." In it, Bonhoeffer reminded his co-conspirators of the ideals for which they were willing to give their lives. In his words: "We have for once learned to see the great events of world history from below, from the perspective of the outcast, the suspects, the maltreated, the powerless, the oppressed, the reviled—in short, from the perspective of those who suffer."
As he sifted through the various reasons why they had to kill Hitler and bring down the Nazi government, Bonhoeffer spoke to them of the example of Jesus Christ. Jesus had willingly risked his life defending the poor and outcasts of his society—even at the cost of a violent death.
By the time of his arrest, Bonhoeffer's life had become an ever-twisting journey in which he had been moved to action by that "view from below." His life took him from a comfortable teaching post at the university to the isolated leadership of a minority opposition within his church and against his government. He moved from the safety of a refuge abroad to the dangerous life of a conspirator. He descended from the privileges of clergy and the respect accorded a noble family, to his harsh imprisonment and eventual death as a traitor to his country.
Steely Determination
Few people would have predicted that the young Bonhoeffer would end up as a political conspirator. Born in Breslau in 1906, Dietrich was his family's fourth son and sixth child (his twin sister, Sabine, was born moments later). His mother, Paula von Hase, was daughter of the preacher at the court of Kaiser Wilhelm II. Dietrich's father, Karl Bonhoeffer, ...
You have reached the end of this Article Preview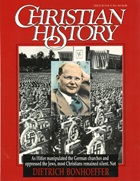 10/01/1991