Christianity and the Civil War: Did You Know?
Major revivals broke out in the Civil War armies. In the Union Army, between 100,000 and 200,000 soldiers were converted; among Confederate forces, approximately 150,000 troops converted to Christ. Perhaps 10 percent of all Civil War soldiers experienced conversions during the conflict.
Abraham Lincoln, though he knew the Bible thoroughly and spoke often of an Almighty God, was never baptized and was the only United States president never to join a church.
By 1860, there were nearly 4,000,000 slaves in the United States. One of every seven Americans belonged to another. (Yet most Confederate soldiers didn't own any slaves.)
Before 1830, many leaders in the anti-slavery movement came from the South.
Three of the nation's leading Protestant denominations—the Presbyterians, Methodists, and Baptists—all divided over slavery or related issues. These church divisions fractured political parties, and ultimately helped to divide the nation.
As early as 1818, Presbyterians unanimously declared at their General Assembly that "the voluntary enslaving of one part of the human race by another" is "utterly inconsistent with the law of God." Ironically, however, the same assembly upheld the decision to depose a Presbyterian minister because he held anti-slavery views. And in 1845, the General Assembly agreed that slavery was a biblical institution.
A "Great Revival" occurred among Robert E. Lee's forces in the fall of 1863 and winter of 1864. Some 7,000 soldiers were converted. Revivals also swept the Union Army at that time. Sometimes preaching and praying continued 24 hours a day, and chapels couldn't hold the soldiers who wanted to get inside.
Chapels often were built in soldiers' quarters. In 1864, the Army of Northern Virginia alone boasted ...
You have reached the end of this Article Preview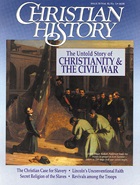 01/01/1992