From the Archives: Replacing The Mass With a New Order of Worship
With the abolition of the Roman Catholic Mass came the task of explaining the meaning of the Reformed service of worship. In July, 1531, shortly before his death, Zwingli wrote his "Exposition of the Christian Faith" addressed to a Christian king and described therein his new liturgy. It was radical for his time, yet his order of service may sound familiar to many worshipers today. Your own church may wish to use it some Sunday in commemoration of Zwingli the liturgist, or as the order of worship on Reformation Sunday.
HERE FOLLOWS SUBSTANTIALLY THE ORDER OF SERVICE WE USE AT ZURICH, BERNE, BASEL, AND THE OTHER CITIES OF THE CHRISTIAN ALLIANCE:
First, in a sermon of appropriate length is preached the goodness of God which He has shown us through His Son, and the people are directed to the knowledge of this and thanksgiving for it. When this is finished a table is placed in front of the choir, so-called, before the steps; this is covered with a cloth, the unleavened bread is placed upon it, and the wine poured into cups. Then the pastor comes forward with two assistants, and they all turn towards the people, so that the pastor or bishop stands between the others, having on only the usual garb worn by men of standing and ministers of the Church. Then the pastor begins in a loud voice, not in the Latin tongue, but in the vernacular, so that all shall understand what is going on, "In the name of the Father, and of the Son, and of the Holy Ghost." The assistants respond in the name of the whole church, "Amen." The Pastor: — "Let us pray." Now the church kneels.
"Almighty and everlasting God, whom all creatures rightly worship, adore, and praise, as their Maker, Creator, and Father, grant unto us miserable sinners that we may in ...
You have reached the end of this Article Preview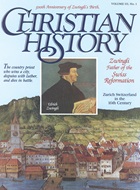 01/01/1984