The Spread of the Zwingli Reformation
Ulrich Zwingli was the father of the Reformed Reformation in Switzerland but he is the least well remembered of the first generation reformers. He has always been overshadowed by Luther. And the fact that he died in battle has left many unanswered questions about Zwingli's career.
Zwingli hoped first to establish a church in the Canton of Zurich which would serve as the model for a Swiss National Protestant Church. Once this had been done, he planned to spread his doctrine of reform throughout Europe, so that an international Protestant church would be set up which would preserve the best of the traditions of the universal church of the Middle Ages but, at the same time, would be free of the worst abuses of the old church and no longer be governed by the Pope and his corrupt court at Rome.
The European-wide reformed catholic church which Zwingli envisaged was never founded. Zwingli did succeed, however, in introducing his conception of the proper reformation of the church into the major Urban Cantons, the Cantons dominated by cities of German Switzerland. At Berne, Basel, Shafthausen, and Zurich, Zwingli's conception of how the church should be reformed was followed. For Zwingli this was, of course, only the first step, and for a while it did seem that Zwingli's program would be effective elsewhere in Switzerland.
The peace in Kappel in 1529 left the Protestants free to spread their doctrine in the areas of the Swiss Confederacy jointly administered by the original members of the Confederacy. It was left up to the individual congregations of these regions to decide whether or not to accept the Reformation. In theory, the same freedom was to be extended to the congregations of the Forest or Mountain Cantons of the Confederacy: ...
You have reached the end of this Article Preview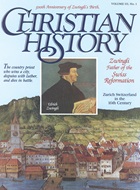 01/01/1984