William Wilberforce and the Abolition of the Slave Trade: Christian History Interview
Christians on the left and the right argue that more believers should attack today's social ills. They often point to William Wilberforce and other 19th-century British evangelicals as examples to imitate. So how relevant are these examples today?
To answer that question, Christian History editor Mark Galli interviewed John Wolffe, senior lecturer in religious studies at The Open University in Britain. John edited Evangelical Faith and Public Zeal: Evangelicals and Society in Britain, 1780-1980 (SPCK, 1995).
What rationale did British evangelicals give for getting involved in social reform?
First, there was the view associated with Lord Shaftesbury: social reform is a preparation for people's hearing the gospel. The preaching of the gospel is absolutely vital, but if people live below a certain level of human dignity or material comfort, they may not respond to the message. If people work 12 or more hours a day, six days a week, they're not likely to go to church on Sunday. They're going to stay in bed trying to recuperate.
Second, both Shaftesbury and Wilberforce believed that Britain was accountable to God for how it treated its weaker, less-privileged members. Wilberforce once said it would be "a strange exception to all those established principles [of] Divine Providence … if national and personal prosperity were … found to arise from injustice and oppression."
Were postmillennialists—who believe Christ will establish his kingdom after the world has been substantially improved—more likely to get involved in social action than were premillennialists?
Yes, broadly speaking, with a few striking exceptions. For example, Shaftesbury was a premillennialist. He was ...
You have reached the end of this Article Preview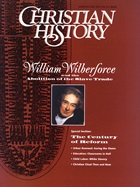 01/01/1997