Where are the Lions When We Really Need Them?

In these latter days of the twentieth century, the denominational problem of identity is a genuine one for many groups besides Baptists. Baptists, however, appear to have more problems than most as we endeavor to locate that distillation, that essence, that defining difference which constitutes being Baptist.
For example, many groups can locate their identity geographically. If one is a Presbyterian, then the direction in which one should travel to locate the essence of that tradition is immediately clear: to Geneva or, perhaps even better, Scotland. If one stands in St. Giles Cathedral in Edinburgh, one feels the pride of origins, if not of ownership. Or if one visits a country church on the Isle of Mull or experiences a totally Presbyterian sabbath in the rural Highlands, a comforting assurance envelopes the pilgrim who knows that indeed John Knox is in his heaven and all's right with the world. Or the Episcopalian can make his or her way like a homing pigeon to Westminster Abbey or Canterbury or Coventry; sitting in St. Paul's on an Easter Sunday morning one instinctively knows why one is of the Anglican persuasion and why one is never tempted to depart from it.
The Lutheran may undertake the journey to Marburg, or Copenhagen, or anywhere in Scandinavia for that matter. When visiting the magnificent cathedrals one's spirit can rise with the arches to the vaulted ceilings and beyond. With satisfaction and a sense of belonging, the Lutheran walks all through the cathedral, back and forth, up and down. It is easy to do this because, of course, no one else is there, even on a Sunday. Nonetheless, one has the feeling that somebody very important once was there!
If one wishes to reaffirm his Dutch Reformed identity, where better ...
You have reached the end of this Article Preview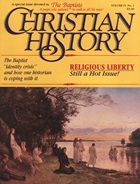 04/01/1985