The Hidden Years
At the announcement that Jesus would be born, at his birth, and then again at his crucifixion, Mary of Nazareth is a central figure. Indeed, though she has become almost invisible to many Protestants today, she was clearly the most important woman in the life of Jesus. The doctrine of the Incarnation—accepted by Protestants as by all Christians—reminds us just how important.
During the years of her son's ministry, however, Mary recedes into the background. Between Mary's losing-and-finding of Jesus as a boy at the Temple and the scene of her son's Crucifixion, she appears only twice: at the wedding at Cana (John 2:1-10) and at the teaching of the multitudes (Matthew 12:46-47; Mark 3:31; Luke 8:19).
These Biblical narratives are the only canonical witnesses to Mary's whereabouts during this period, and they offer only brief sightings of her. At this point in the Bible narrative when Mary is seemingly most invisible, however, we still find her continuing to play an indispensable role.
The teacher's teacher
Throughout his ministry, Jesus functioned as a teacher in a classroom without walls. "Teacher, we wish to see a sign from you," the scribes and Pharisees remarked in Matthew 12:38. Jesus refrained from giving them a decisive sign of his identity at this time. Rather, he taught with parables and with visuals. He taught by healing a person with a withered hand, by curing another who was blind and mute, by stilling a storm. He used familiar, everyday things in his teachings: a lamp under a jar, a sower and some seeds, a tree and its fruit, weeds among wheat. Jesus was a mesmerizing Rabboni. How did he develop this compelling, down-to-earth style of teaching?
In meditating on this question—and the larger issues related to Jesus' ...
You have reached the end of this Article Preview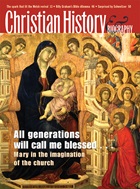 07/01/2004