What Language Shall I Borrow?
Bach was not the first to try his hand at telling the story of Christ's suffering and death in musical form; such settings of the Gospel accounts were common from the Middle Ages onward. Yet Bach's settings of the Passion story endured because of their ability to place the listener at the foot of the cross—and some of the hymns he used became famous in the process.
Bach's Passions present both the onward march of the biblical narrative toward the cross and devotional commentary on that narrative. A soloist representing the Gospel writer (e.g. Matthew or John) narrates the biblical text, while the choir sings the part of the crowd. Other solos and chorally sung hymns, usually in the first person, apply the Scripture story to the life of the individual believer. To drive this application home, Bach used hymns familiar to churchgoers of his day—including two 17th-century texts still sung today, Paul Gerhardt's "O Sacred Head Now Wounded" and Johann Heermann's "Ah, Holy Jesus."
Luther built a strong tradition of congregational hymn singing characterized, in his hands, by hymns like "A Mighty Fortress" (termed by one music historian "that triumphant war-cry of the Reformation"). But violent theological controversy in the 16th century between two strands of Protestantism (the Lutherans and the Reformed), the devastation of the Thirty Years' War (1618-1648), and periodic outbreaks of the plague prompted later German hymn writers to focus more deeply on the inner spiritual life of the believer. Both Heermann and Gerhardt were part of this transformation. They were also no strangers to personal suffering.
Sifted in Satan's sieve
Born in Silesia (at the time part of Germany, but now in Poland), Johann Heermann (1585-1647) was the only ...
You have reached the end of this Article Preview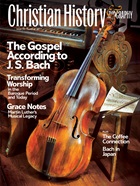 07/01/2007