The words, made popular by Martin Luther King Jr., have been repeated so often that they've become a cliché: "Eleven o'clock Sunday morning is the most segregated hour in America."
The problem is, nearly 35 years after King's death the cliché remains an accurate assessment of the state of American churches—especially the ones here in Dallas.
Sheron Patterson, pastor of St. Paul United Methodist Church, was the first black woman to hold a United Methodist pastorate in the Southwest region. She has seen the process play itself out over and over, like a CD player stuck in repeat mode. "You get a room of ten blacks and ten whites and you lay all of your problems on the table, and everybody talks about how bad it is, and then we have lunch and go home, and nothing really happens," she says. "I wouldn't say it's a waste of time, because racism needs to be dealt with. But what's next?"
Like many Southern cities, Dallas has a long and troubled history of racial division. The city has seen the specter of racism—real and hyped—rear its head in controversies over public education, housing, and employment. But there has been some progress in those areas in recent years, as black and Hispanic citizens find a civic voice. The institution that continues to lag behind, however, is the church.
E. K. Bailey, an African American pastor who has worked to build relationships across Dallas's racial lines, says part of the problem is a fundamental difference between black and white perspectives. "African Americans lean toward a social emphasis; the white churches lean toward the evangelical, especially in the South," he says. "For some reason, we have not been able to get those two to work in concert."
Still, there are hopeful signs. Elliott Greene, an assistant pastor of discipleship at Park Cities Presbyterian Church and one of that 5,000-member congregation's few African American members, has led his church's efforts to minister to the residents of a poor and predominantly Hispanic and African American community on Dallas's West Side.
"Many of our church members have built relationships with people of other races whom they otherwise would not have met," says Greene, who is also a professor of biblical languages at the Dallas branch of Westminster Theological Seminary.
He feels that Dallas churches have faltered in addressing the city's racial ills, but he believes efforts like the ministry at his church are a good step. "Too often when we sit down to discuss racial issues, there's a lot more talking than listening. We need to put ourselves in positions to be able to see these issues from the perspectives of others."
Related Elsewhere
Also appearing on our site today:
Parachurch PassionA Dallas food pantry was transformed when it turned the tables on who should do ministry.
Other stories in our May issue's Dallas cover package include:
The New Capital of EvangelicalismMove over, Wheaton and Colorado Springs—Dallas, Texas, has more megachurches, megaseminaries and mega-Christian activity than any other American city. (May 10, 2002)
Big City, Big MinistryHow did a top-25 list of ministries become a cover story on Dallas? (May 10, 2002)
Southwestern's PredicamentCan the biggest protestant seminary in the world be both Southern Baptist and broadly evangelical? (May 14, 2002)
Dr. Sheron C. Patterson is the founder of the Love Clinic, an institute designed to foster healthy relationships among African Americans and the subject of a recent Christianity Today article.
See the official Web sites for E.K. Bailey Ministries and Park Cities Presbyterian Church.
Previous Christianity Today articles on racial disunity in the church and culture include:
The Forgotten FounderThe man who altered the course of black Baptist history finally has his say. (March 28, 2002)
To the End, a Baptist PreacherIf you want to know Martin Luther King Jr., consult his sermons. (Jan. 21, 2002)
Separate and EqualMartin Luther King dreamed of an integrated society. Boston minister Eugene Rivers thinks it was the wrong dream. (August 7, 2001)
Lost Common CauseChristian focus on racial reconciliation is set back after Cincinnati's riots. (July 14, 2001)
Shoulder to Shoulder in the SanctuaryA profile in racial unity. (Oct. 2, 2000)
Different WorldsInterviewing blacks and whites in the same cities makes an author realize that these followers of Christ were speaking separate languages. (Oct. 2, 2000)
The Lord in Black SkinAs a white pastor of a black church, I found the main reason prejudice and racism hurt so much: because we are so much alike. (Sept. 25, 2000)
Divided by Faith?A recent study argues that American evangelicals cannot foster genuine racial reconciliation. Is our theology to blame? (Sept. 22, 2000)
Color-BlindedWhy 11 o'clock Sunday morning is still a mostly segregated hour. An excerpt from Divided by Faith. (Sept. 22, 2000)
Confessions of a RacistIt wasn't until after Martin Luther King, Jr.'s death that I was struck by the truth of what he lived and preached. (Jan. 17, 2000)
Article continues below
The March to MontgomeryChristianity Today's coverage of King's historic voting rights march, from our April 9, 1965 issue. (Jan. 17, 2000)
Catching Up With a DreamEvangelicals and Race 30 Years After the Death of Martin Luther King, Jr." (Jan. 17, 2000)
Martin Luther King, Jr.: A HistoryNo Christian played a more prominent role in the century's most significant social justice movement than Martin Luther King, Jr. (Jan. 17, 2000)
Breaking the Black/White StalemateJesse Miranda and William Pannell discuss the next step in racial reconciliation. (March 2, 1998)
She Has a Dream, TooBernice King talks about her father's death, her call to ministry, and what the church still needs to do about racism. (June 16, 1997)
Will the Walls Fall Down?Promise Keepers draws a bead on the 'giants' of racism, family breakdown, and church disunity. (Nov. 17, 1997)
RacismYouth Are Key in Moving Past 'Feel Good' Reconciliation. (Nov. 11, 1996)
Have something to add about this? See something we missed? Share your feedback here.
Our digital archives are a work in progress. Let us know if corrections need to be made.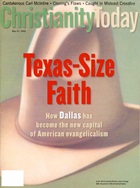 This article is from the May 21 2002 issue.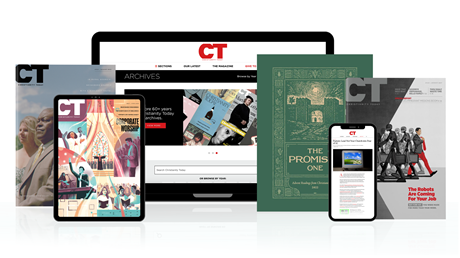 Annual & Monthly subscriptions available.
Print & Digital Issues of CT magazine
Complete access to every article on ChristianityToday.com
Unlimited access to 65+ years of CT's online archives
Member-only special issues
Subscribe
Sunday Colors
Sunday Colors