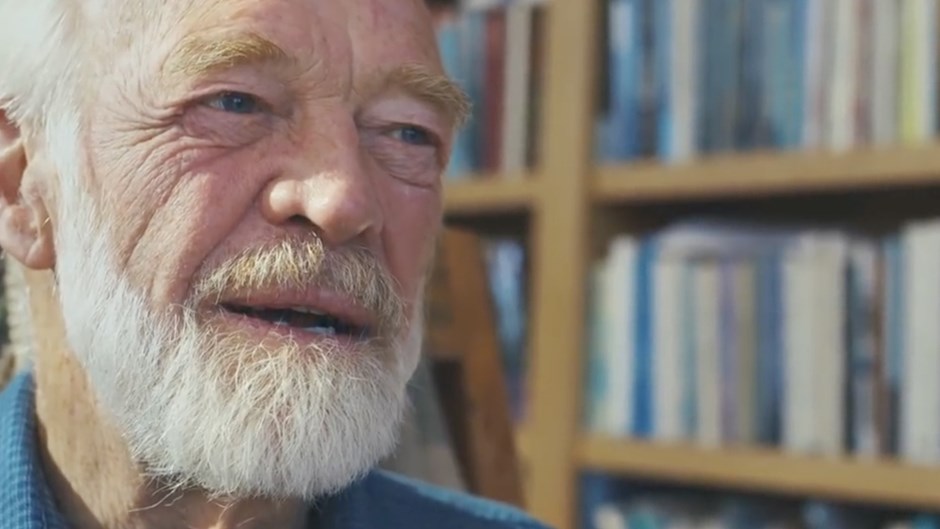 Image: Navpress / Tyndale
Eugene Peterson has worked on The Message, his rendering of the Bible in contemporary language, for 12 years. This year he can celebrate the arrival of The Message as a complete text. Peterson's work has won praise from diverse readers—from the Protestant contemplative Richard J. Foster to football coach Bill McCartney, and from theologian J. I. Packer to rock star Bono. The Message began taking shape when Peterson was leading a Bible study at the church he founded, Christ Our King Presbyterian in Bel Air, Maryland, and he sought to make Galatians more accessible to his class. After John Stine, an editor at NavPress, read Peterson's treatment of Galatians, he suggested that Peterson begin writing similar versions of other New Testament books. Peterson recently spoke by phone with CT associate Douglas LeBlanc on the challenges of writing a paraphrase translation.
Was there a breakthrough moment when you became convinced that you should expand your work from Galatians to the rest of the New Testament?
I was a reluctant participant in this. I really didn't think that I could do it or that it could be done. But I agreed with my editor, John, that I would. In some ways Paul is easy. There's a lot of challenge to Paul, but the gospels are something quite different. There's a kind of clean, lucid clarity to them, and I just didn't think I could do that. But I agreed to do 10 chapters of Matthew and then let John decide whether he thought we could do this. And so it was just as bad as I thought it would be. It was very wooden, and it just wasn't working. I just kind of let go and became playful. And that was when the Sermon on the Mount started. I remember I was down in my basement study, and I did the Beatitudes in about 10 minutes. And all of a sudden I realized this could work.
Did anyone who read the early versions make significant suggestions?
I sent a few pages to my son; he was in graduate school at the time. It came back, and he had all these words circled with the initials TC in the margin. I called him up and said, "Leif, what is tc?" He said, "Tired cliché." I said, "How do you define a cliché?" And he said, "If I've heard it once, it's a cliché."
Do you sometimes use The Message for your own devotional reading?
My wife does, but I don't. Actually, I don't want this to sound wrong, but for most of my adult life I have read the Bible in Greek and Hebrew. I still do that. When I finished the New Testament, I really couldn't read The Message. It was like I lived in that world, and I didn't know if it was going to be accepted. I just put it away. But occasionally now I'll pick it up and remember what I was doing.
What are the challenges of translating Scripture into the language of the street?
It's very different than trying to give a literal translation. With a conventional translation you're trying to be as close to the original culture and grammar and Greek syntax and Hebrew syntax as you can be, and invite the reader to enter that world and understand it in those terms. When you're doing a paraphrase translation like I've done, the demand is not on your demonstrating that world, although you kind of do that, but there's more of an imagination and a poetic aspect to it, because you're trying to recreate those rhythms or those images and metaphors in this culture. I don't think I could have done this if I wasn't a pastor.
What advice would you give to anyone who attempts a paraphrase?
It's interesting that my two most well-known predecessors, J. B. Phillips and Ken Taylor, had the same context to work in as I had. Phillips was a pastor, and Taylor was a father and a layperson. Phillips did his first thing for a youth group, and Taylor did his for his children. I think if there's any counsel for this kind of translation work, you just have to be immersed in the everyday. You don't go off to an ivory tower someplace and surround yourself with dictionaries and grammars. Although you've got to know those things, those are a presupposition; that's not the world you immerse yourself in.
Do you think The Message will be well suited for reading in worship?
When I'm in a congregation where somebody uses it in the Scripture reading, it makes me a little uneasy. I would never recommend it be used as saying, "Hear the Word of God from The Message." But it surprises me how many do. You can't tell people they can't do it. But I guess I'm a traditionalist, and I like to hear those more formal languages in the pulpit.
You have said that if you dig your wells deep enough, relevancy is pretty much irrelevant. What sorts of hazards await a translator who focuses on relevance?
The hazard is just triviality. Relevance is relevant for about 10 minutes in the kind of culture we're in. I never thought of relevance. I was thinking of my congregation. I was thinking of these people, the lives they lived. I didn't want to be cute; I didn't want to just get people's attention. So I was always working very closely with those Greek and Hebrew texts, trying to get underneath them and get into them, and then let it come out as the kind of language that we're using. And I wasn't trying to make it easy. I was astounded when I learned about some of the new versions of the Bible that are being published by companies that spend thousands of dollars trying to find the vocabulary level of the average person and exclude all the words that don't fit into that grid. I think you do the best you can with the language you have. The fact is, the Bible is hard. It's not an easy book. I don't think we should compromise the accuracy of the Bible just for ease of reading.
Do you consider it one of the unique qualities of Scripture that it can be translated into so many forms and still retain such spiritual power?
An African theologian, [Kwame] Bediako [author of Christianity in Africa: The Renewal of a Non-Western Religion], says that every time the Bible is translated it releases new meanings. And he was talking about African languages and African dialects. Every time the Bible is translated, you enter a culture and a language system that is unique. And the Bible is true and gets into those rhythms and those idioms and there's more truth there. So the truth is kind of endless, and each culture, dialect, and language gives a new chance to express something nobody has ever quite done this way before. The comments of appreciation that mean the most to me are from Wycliffe translators. They're doing this, and they understand immediately what I'm doing, and they love it.
As The Message has attracted critical praise and a fairly substantial audience already, is there anything else that could make your joy complete?
To tell you the truth, I'm quite detached from it. It wasn't my idea, I've been trying to be a servant to this text for 12 years now, and so it's almost like it's happening to somebody else. I'm surprised at how little emotion I feel about this.
Related Elsewhere
For more information on The Message and Eugene Peterson, see the NavPress website.
In the current issue of Christianity Today's sister publication, Books & Culture, Ben Patterson reviews The Message.
Previous Christianity Today articles on Bible translation include:
Article continues below
Text Criticism and InerrancyHow can I reconcile my belief in the inerrancy of Scripture with comments in Bible translations that state that a particular verse is not 'in better manuscripts'? (October 22, 2002)
Meaning-full TranslationsThe world's most influential Bible translator, Eugene Nida, is weary of 'word worship.' (Sept. 19, 2002)
Getting the TNIV Debate StraightOur policy against negative ads doesn't mean we're cutting off discussion. (June 7, 2002)
TNIV Critics Blast Scripture 'Distortions'But evangelical backers of new translation say gender changes are 'accurate.' (March 19, 2002)
Why the TNIV Draws IreNo translation is perfect, and each must be read with a careful exegetical eye. A Christianity Today editorial. (March 19, 2002)
Which Version Should We Use?What we said when the NIV was first published. A Christianity Today editorial. (March 19, 2002)
Christian History Corner: Translation WarsSharp as debate over the TNIV may be, the version's translators are getting off easy compared to John Wycliffe and William Tyndale. (March 1, 2002)
Comparing the Three NIVsHow does the TNIV treat verses that were earlier criticized as theologically incorrect? (Jan. 31, 2002)
Revised NIV Makes Its DebutTranslators alter 7 percent of the text to update style and gender issues. (Jan. 28, 2002)
A Translation Fit For a KingIn the beginning, the King James Version was an attempt to thwart liberty. In the end, it promoted liberty. (Oct. 22, 2001)
The Reluctant RomansAt Douai in Flanders, Catholic scholars translated the Bible into English as an alternative to the Bible of "the heretics." (Oct. 22, 2001)
We Really Do Need Another Bible TranslationAs good as many modern versions are, they often do not allow us to hear what the Holy Spirit actually said. (Oct. 19, 2001)
Old Wisdom for New TimesThe International Bible Society is doing "spiritual archaeology" and retro-publishing to reach seekers. (April 23, 2001)
And the Word Came with PicturesVisual Bible International (VBI), is producing a movie version of the Bible book for book, word for word. (March 1, 2001)
New Bible translations help to preserve world's disappearing languagesThe total number of languages in which the Bible is available in part or in its entirety now stands at 2,233. (Feb. 28, 2000)
The Battle for the Inclusive BibleConflicts over "gender-neutral" versions are not really about translation issues. (Nov. 15, 1999)
Article continues below
What Bible Version Did Jesus Read?What does the knowledge that Jesus used different versions of Scripture mean for us today? (April 26, 1999)
Do Inclusive-Language Bibles Distort Scripture?He Said, They Said (October 27, 1997)
The Great Translation DebateThe divide over gender-inclusive Bibles hides what unites us. (Oct. 27, 1997)
On the Shoulders of King JamesBarclay M. Newman has kept before him a question posed by the translators of the 1611 King James Version: "What can be more [important] than to deliver God's book unto God's people in a tongue which they understand?" (Oct. 27, 1997)
Confessions of a Bible TranslatorAs a stylist on a new translation of the Bible, Daniel worries over the effectiveness of the language into which the text is translated. (Oct. 27, 1997)
Hands Off My NIV!Bible society cancels plans for 'gender-accurate' Bible after public outcry. (June 16, 1997)
Bible Translators Deny Gender AgendaFocus on the Family yanks children's Bible; NIV translator loses seminary job. (July 14, 1997)
Have something to add about this? See something we missed? Share your feedback here.
Our digital archives are a work in progress. Let us know if corrections need to be made.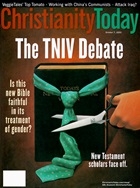 This article is from the October 7 2002 issue.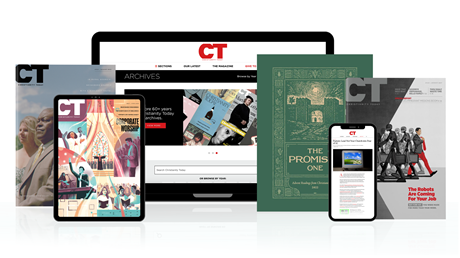 Annual & Monthly subscriptions available.
Print & Digital Issues of CT magazine
Complete access to every article on ChristianityToday.com
Unlimited access to 65+ years of CT's online archives
Member-only special issues
Subscribe
'I Didn't Want to Be Cute'
'I Didn't Want to Be Cute'