Lauren Winner is on a wonderful spiritual journey and is kind enough to write about it for others to go along for the ride. In Girl Meets God she navigated readers through her sojourn from Judaism to Christianity. And in her newest book, Mudhouse Sabbath, she discusses the Jewish traditions she misses.
What have you found useful as you start re-thinking the Sabbath as a Christian?
I've reflected on what I understand is the two over-arching themes of Sabbath law in Judaism. One of those is the general command not to work on the Sabbath, and the other is the general command to be joyful. So I tried to reflect, in both my family and community, on ways that I could undertake both of those two over-arching principles.
One way is that I've stopped shopping. That was something I only discerned to be not very in keeping with the spirit of the Sabbath and resting, not interfering with creation. One of the other things I have found helpful is that I try not to check my email or use my cell phone on the Sabbath, which sounds like a small thing. But those are implements that connect us to our work and they put me in this state of very low-grade, constant tension that someone is trying to get a hold of me. So I simply try not to check email or use my cell phone on Sabbath.
Now obviously, there are exceptions to all of these rules. My mother was quite ill last fall, and if there was a Sunday and she needed me to go to the grocery store and purchase some Ensure for her, obviously I'm not going to respond to that by saying, "I'm sorry, it's the Sabbath."
You refer to eating kosher as eating attentively. Talk a bit about what you're finding is helpful, as a Christian, as you think about the idea of kosher eating.
One of the things I realized was missing from my spiritual life was that as a Jew who observed the rather rigorous Jewish dietary laws, I had to pay attention all the time to what I was eating, who was preparing my food, how it was getting to my table. And after I stopped keeping kosher I was much more likely to order take-out, to kind of eat standing up over the sink, to drive-thru McDonald's. I began to realize that I was unthinkingly using food as a fuel. I wasn't offering any gratitude to the Creator who had provided it for me.
You say, "Churches don't grieve well often because of a lack of ritual. And if there's a place where there is a discipline to mourning, it's in Judaism, which marks the days." Talk about how Judaism "marks the days" as part of the mourning process.
The first period that is demarcated in the Jewish community would be the seven days, or the week after someone dies. That is a time when the mourner is not expected to do anything else but be grief stricken. People come to your home and provide all of your meals. The second period is the period of the following month, which is a time when the mourner gradually edges back into his or her normal day-to-day rhythms, but there are still actually a lot of restrictions on what the mourner can do. And then the rest of the year of mourning is recognized, the mourner is required to say a prayer every day, and it is a prayer that can only be said with a quorum of ten other Jews gathered for prayer. But it doesn't say anything about mourning. It is entirely a prayer that praises God. It begins, "Magnified and sanctified may his great name be," and goes on from there as a hymn of praise.
I think all of us who have mourned know that sometimes we don't feel like praising God in the middle of our grief. So the Jewish mourner is required to do it even though he may not feel like it and to do it in his community even though he may feel like staying in bed. I think what is so insightful about the Jewish tradition of mourning is the recognition that mourning takes a long time.
Talk a bit about what you're learning in this area of prayer as it relates to your Jewish tradition.
I was schooled in liturgical prayer, as a Jew, and then have spent my entire Christian life in liturgical communities. The concern, I think, that people have about liturgy, or the fear that people have is that it gets boring and rote. And I'll be the first to admit that sometimes it does. I can sit down with my prayer book to say my morning office or my set of morning prayers, and I can realize 10 or 15 minutes into that that I've been mouthing the words but thinking about my grocery list or something.
So the danger of liturgical prayer is that it does become habitual and can become rote. But I find that when I don't have to think all the time about what words I'm going to say next, then I am free to enter into reverencing God in prayer. The other great gift of liturgy is that if you have a set of liturgical prayers your prayer life is not going to be subject to your own emotional whims.
I love the chapter on weddings. And since you're a recent newlywed, what is it that enriches your understanding of marriage from the Christian tradition?
I think the Christian marriage and wedding tradition so clearly speaks to the fact that marriage is a covenant. It is not a contract that we can get out of because something goes wrong, but it is a covenant that is possible because it's not just two people up there getting married, it's two people and God. And God will sustain them through the strains and pressures that may be put on that covenant.
I think some aspects of the Jewish wedding ceremony articulate quite well that the community is involved in the process of sustaining marriages. We see that in the Christian wedding service in The Book of Common Prayer. There is a place where the minister says, "Do you, the congregation, promise to uphold these two people in their vows of marriage?" And the congregation responds, "We will."
It seems to me that if we want to get the divorce rate [among Christians] down, one of the things we can do is recognize that the community is involved in people's marriages at every step of the way.
Related Elsewhere:
Mudhouse Sabbath is available from Christianbook.com and other book retailers.
Also posted today is a review of Mudhouse Sabbath.
An excerpt about hospitality from the book was published in CT sister publication Today's Christian Woman.
Last year, CT published a review of Girl Meets God.
More information is available from the publisher.
A contributing editor, Winner's articles for CT include:
meetingGod@beliefnet.com | I thought the high-powered, heady world of dot-coms—even dot-coms devoted to religion and spirituality—was far removed from my own walk with Christ. (Nov. 16, 2001)
Solitary Refinement | The church is doing better than ever at ministering to single people. But some evangelical assumptions still need rethinking. (June 4, 2001)
The Wright Stuff | Vinita Hampton Wright is leading a quiet transformation of Christian fiction. (April 20, 2001)
Truth, Suitable for Framing | Before there was the Internet, there was the Talmud. And they have a lot in common. (Feb. 20, 2001)
The New Ecumenists | At the Vine, emerging Christian leaders are reinterpreting the meaning of church unity. (Feb. 5, 2001)
Policy Wonks for Christ | At Civitas, grad students learn to think Christianly about public life. (Nov. 16, 2000)
The Man Behind the Megachurch | There would be no Willow Creek—no small groups, no women in leadership, no passion for service—without Gilbert Bilezikian. (Nov. 6, 2000)
Recipes for the Soul | Phyllis Tickle thinks cookbooks and prayerbooks have a lot in common. (Aug. 15, 2000)
Article continues below
Something Old, Something True | With The Story of Us, released on video today, Hollywood offers a rationale for sticking with marriage. (Feb. 14, 2000)
T. D. Jakes Feels Your Pain | Though critics question his theology, this fiery preacher packs arenas with a message of emotional healing. (Feb. 7, 2000)
Whoa, Susannah! | It's great music, but its portrayal of Christian hypocrisy will make you wince. (Oct. 4, 1999)
Eternal Ink | A growing movement of Christian tattooists is leaving its mark on both body and soul. (Oct. 4, 1999)
New Song, Familiar Tune | Jan Karon's latest Mitford installment changes locales to talk about living where you're at. (July 12, 1999)
Death, Inc. | What the funeral industry doesn't want you to know. (April 26, 1999)
Sword Drills and Stained Glass | What children really learn in Sunday school. (April 5, 1999)
Tales of a Reluctant Convert | Anne Lamott despised Christians but couldn't resist becoming one. (Feb. 8, 1999)
Finding Power in Submission | Two feminist scholars write about women you'll recognize. (April 27, 1998)
Recent Dick Staub Interviews include:
Ravi Zacharias's Wonderful World | The author of Jesus Among Other Gods explores God's gift of awe. (Jan. 13, 2004)
Michael Card Discovers St. Peter | In A Fragile Stone: The Emotional Life of St. Peter, Card says sinking is more important than walking on the water. (Dec. 16, 2003)
Mary Poplin Calls Claremont Her "Calcutta" | After seeking God through telepathic spoon bending exercises, this professor found God, and with the help of Mother Teresa, her calling. (Dec. 10, 2003)
Gordon Smith Hears the Voice of Jesus | The author of The Voice of Jesus talks about listening to God with discernment. (Nov. 18, 2003)
John Eldredge Is Wild at Heart | The author of Wild at Heart and The Sacred Romance discusses rediscovering the Gospel through a ransomed heart. (Nov. 11, 2003)
Pursuing God and Community | A self-described nerd says pursuing God and community is possible through commitment (Nov. 4, 2003)
Francis Bok Is Proof that Slavery Still Exists | After spending 10 years in slavery, the young Sudanese man is telling his story to the world. (Oct. 28, 2003)
Philip Yancey, the Rumor-Monger | The author's latest is written not for Christians, but for those on the "borderlands of belief" (Sept. 30, 2003)
Ken Gire's Lord of the Dance | Patch Adams and T. S. Eliot teach us to twirl with Jesus, says the author (Sept. 23, 2003)
Jerry Jenkins's Solo Apocalypse | His new novel, Soon, imagines a world where religion, blamed for war, is banned (Sept. 16, 2003)
Article continues below
Why Frederica Mathewes-Green Loves Icons | Yes, we ask the saints to pray for us, she says. They are still living members of the church after all. (Sept. 9, 2003)
Sheila Walsh Says Stop | The author, singer, and popular speaker talks about learning to put praise above performance (Sept. 2, 2003)
Trusting in a Culturally Relevant Gospel | Os Guinness says that evangelicals have never strived for relevance in society as much as they do now. Ironically, he says, they have never been more irrelevant (Aug. 26, 2003)
The Long War About Science | Larry Witham, the author of Where Darwin Meets the Bible and By Design, talks about faith, science, and how the battle has evolved. (Aug. 19, 2003)
The Dick Staub Interview
Dick Staub was host of a eponymous daily radio show on Seattle's KGNW and is the author of Too Christian, Too Pagan and The Culturally Savvy Christian. He currently runs The Kindlings, an effort to rekindle the creative, intellectual, and spiritual legacy of Christians in culture. His interviews appeared weekly on our site from 2002 to 2004.
Previous The Dick Staub Interview Columns: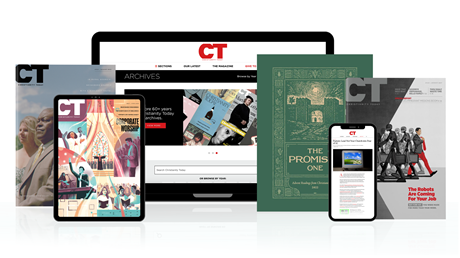 Annual & Monthly subscriptions available.
Print & Digital Issues of CT magazine
Complete access to every article on ChristianityToday.com
Unlimited access to 65+ years of CT's online archives
Member-only special issues
Subscribe
Lauren Winner's Faith Still a Bit Jewish
Lauren Winner's Faith Still a Bit Jewish