The Magazine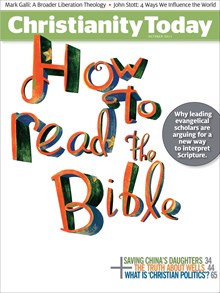 This feature is for subscribers only:
Table of Contents
Views
Unexpected Political Hero
Even evangelicals who disagreed with Mark Hatfield admired his passionate faith.
Is Online Dating for Christians?
An anthropologist, a writer, and a ministry leader consider Christian dating websites.
Power Washed by God
The blessings—and danger—of divine proximity.
In Every Issue
A New Bible Battle
It's not about doctrine but our use of Scripture.
The Coach in Your Head
Sports psychologist Julie Bell can help you hear it.
Loading