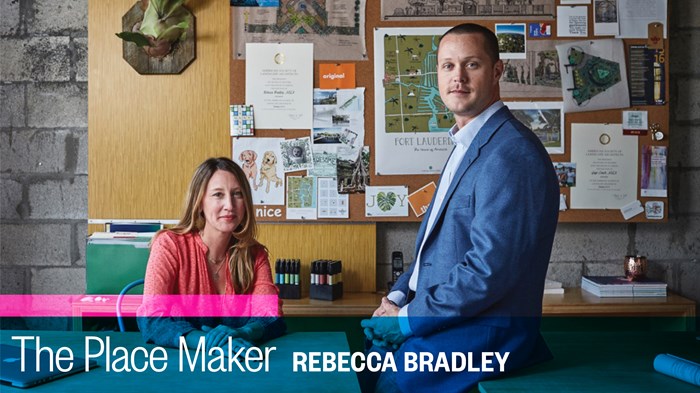 Image: Ryan Stone
Cadence, Fort Lauderdale, Florida | @iamrebeccab
Using palm trees and patios, sidewalks and sculptures, Rebecca Bradley dreams up interactive and inviting outdoor spaces for her South Florida clients and their communities.
"Every single project we work on, there's a ripple effect because we are in the realm of affecting physical space," said Bradley, a landscape architect who wants municipalities, neighborhoods, and businesses to make the most of their urban environments.
After a decade in corporate design, she and business partner Gage Couch formed the landscape architecture firm Cadence. "We thought there might be ways we could do even more with the profession," said Bradley. "We were interested in setting up a business that had community outreach and engagement built into the model."
Influenced by tactical urbanism—a movement to make temporary improvements that cause people to rethink shared spaces—Cadence participates in events like Park(ing) Day, when they turn metered parking spots into temporary mini-public parks, with decorations, seating, and grass.
Last year, the company launched the Fort Lauderdale's first urban art trail, with routes mapped out based on public input and public art themed around the city-dwelling Florida state bird, the mockingbird.
Bradley says the Christian values she was raised with pulse through the culture at Cadence and inspire their community focus. "If you're doing the best you can to design something that can be sustainable and energize or make a community more vibrant, that's really rewarding."
1
You have reached the end of this Article Preview