The Early Controversies Over Female Leadership
Church documents from the first few centuries give us glimpses of what women could and could not do. But what were the controversies that made these rules necessary? Antiquities scholar Karen Torjesen traces the development of the church orders, and considers their social subtext.
Those Eccleiastical traditions which have not yet recognized the legitimacy of women's leadership see themselves as keeping faith with an ancient tradition that explicitly rejected the leadership of women in the church. Their appeal to tradition is largely an appeal to a series of documents called the church orders, which span five centuries.
These church orders, claiming apostolic authority, sought to define the liturgical and ecclesiastical practices of the church. However, each of the church orders was composed at a particular point in ecclesiastical history. They convey, in the language they use and the issues they discuss, the particular concerns of the church at that moment. Although their claim to apostolic authority intends to obscure their roots in particular crises of ecclesiastical history, a careful reading can identify the controversies out of which each new church order was formed.
Recent Studies
The debate over women's ordination has sparked a number of recent studies of early church orders. Scholarly activity has focused primarily on the types of ministries exercised by women and on the specific nature of their ordination. Scholars have tended to read the church orders exclusively as regulatory documents, excerpting only their authoritative definitions of ritual and practice.
But the church orders are more than legal codes. They are treatises composed to settle controversies over liturgy, discipline and ordination. For the historian, ...
You have reached the end of this Article Preview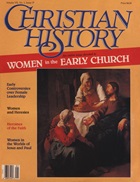 01/01/1988