The Rich Heritage of Eastern Slavic Spirituality
In only 460 years (990–1450), less than half the millennium period being celebrated this year, at least several thousand of the Eastern Slavs—and this is based solely on the number taking monastic vows—were exercising themselves in spiritual devotions and service. Here are the stories of only a few of the leading lights.
The spirituality of the Orthodox believers in Eastern Slavic territories, like the spirituality of the entire Orthodox faith itself, is largely unknown to most Western, Protestant readers. But there is much in the history of such spirituality, as the several tales below will demonstrate, that can inspire, stimulate and encourage us.
These biographies are excerpted and condensed from Fr. Louis Bouyer's book, Orthodox Spirituality and Protestant and Anglican Spirituality, No. III in the series, A History of Christian Spirituality, by Bouyer, Jean Leclercq, Francois Vandenbroucke, and Louis Cognet. Originally published in 1969 by The Seabury Press, the series is now published by Harper &Row Publishing, Inc., and these excerpts are used here by permission of Harper &Row.
Comparing the Primary Chronicle's accounts of the conversions of Vladimir and Olga with those of characters in other ancient Christian writings, it is worthy of note that the Chroniclers make no attempt to gloss over the previous sinful conduct of the two heroes—as was the case, for example, in Eusebius's account of the conversion of Constantine. In fact, the Slavic Chroniclers openly discusses Olga's brutality and Vladimir's dissolute life, portraying two people who, in Christianizing the realm of the Kievan Rus', were not prefabricated saints but needed conversion just as much as their people.
This is but another evidence that from the first, ...
You have reached the end of this Article Preview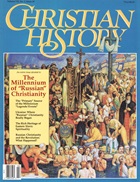 04/01/1988