The Hymn Explosion
The eighteenth century saw dramatic changes in the content, and practice, of congregational song. Note, for example, how the rendering of one psalm changed.
In the Bay Psalm Book, published in 1640, Psalm 137 concludes this way:
Blest shall he be, that payeth thee,
Daughter of Babylon,
Who must be waste: that which thou hast
Rewarded us upon.

O happy he shall surely be
That taketh up, that eke
Thy little ones against the stones
Doth into pieces break.

By the end of the eighteenth century, however, this objective, biblical literalism had been moderated by a subjective spirituality, a concern for poetry, and a New Testament hermeneutic. Thus Timothy Dwight's version of Psalm 137, published in The Psalms of David (Hartford, 1801), ends with the following stanzas:
Jesus, thou Friend divine,
Our Savior and our King,
Thy hand from every snare and foe
Shall great deliverance bring.
Sure as thy truth shall last

To Zion shall be given
The highest glories earth can yield,
And brighter bliss of heaven.

How can the strong contrast between these two versions of Psalm 137 be explained?
Metrical Psalms: No Polishing
The seventeenth century had inherited from the previous century the Calvinist tradition of singing metrical psalms. The most common metrical psalter, by Sternhold and Hopkins, was completed in 1562. But there were others, such as the so-called Bay Psalm Book, first issued in Cambridge, Massachusetts, in 1640. These psalters reproduced the Hebrew psalms as accurately as possible in English rhyme and meter.
The preface to the Bay Psalm Book outlined the philosophy of metrical psalmody: "If therefore the verses are not always so smooth and elegant as some may desire or expect; let them consider that ...
You have reached the end of this Article Preview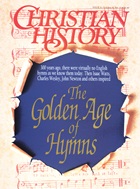 07/01/1991