America's Hesitation Over Hymns
In England in 1707, Isaac Watts published his classic collection of Hymns and Spiritual Songs.
In the New England colonies in 1707, no church organ had yet been installed. The first singing-instruction book would not be written for fourteen more years. And Hymns and Spiritual Songs would not be reprinted until about 1720.
While the new hymns were being written and sung throughout England, many American churches and ministers opposed them. Not until well after the middle of the eighteenth century did English hymns achieve a significant place in American worship.
Why? Here is the story of hymns' rocky introduction to American churches.
Hymns "Of Human Composure"?
In early colonial America, congregational singing consisted almost exclusively of metrical psalms. In this, as in most other matters, the colonies followed the lead of the Mother Country.
The two psalters most widely used were the Bay Psalm Book (1640) and Sternhold and Hopkins's Whole Book of Psalms (the "Old Version," 1562). The Bay Psalm Book had been compiled by a group of New England divines and was employed in nearly every Puritan church of the Massachusetts Bay Colony. Outside the Puritan sphere, congregations relied mostly upon the Old Version, the most popular English psalm book of the time. In some Nonconformist churches there may have been no singing at all, due to objections to "conjoined" singing of believers and unbelievers.
"Hymns of human composure" were not entirely absent, however. In his Ratio Disciplinae Fratrum (1726), Cotton Mather observed that "private Companies & Families" among the Puritans would sometimes sing "devout Hymns they find for their Edification." Mather himself wrote a number of hymns and published a collection of them in 1697. However, ...
You have reached the end of this Article Preview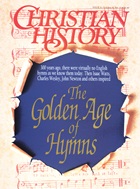 07/01/1991