Changing the Tempo of Worship
"Next to the Word of God, music deserves the highest praise," Luther declared. He thus stood in sharp contrast to other reformers of his era.
Ulrich Zwingli, leader of the new church in Zurich, was a trained musician. Yet under his influence, Zurich's magistrates banned all playing of organs, and some of Zwingli's followers went about smashing organs in their churches. Though Zwingli later permitted some vocal music, he rejected instrumental music.
John Calvin, though he considered music a gift of God, saw it as a gift only in the worldly domain. Thus, its role in the church was severely limited. He considered instrumental music "senseless and absurd" and disallowed harmonies. Only unison singing of the Psalms was permitted.
Not so for Martin Luther. "I am not of the opinion," he wrote, "that all arts are to be cast down and destroyed on account of the gospel, as some fanatics protest; on the other hand, I would gladly see all arts, especially music, in the service of him who has given and created them."
Music in congregational worship remains one of Luther's most enduring legacies. "Who doubts," he said, "that originally all the people sang these which now only the choir sings or responds to while the bishop is consecrating?"
In fact, Luther's hymns—especially "A Mighty Fortress Is Our God"—are the only direct contact many people have with Luther. Modern Lutheran hymnals may contain twenty or more of his hymns, and many non-Lutheran hymnals include several.
What were Luther's beliefs about music? What role did it play in worship? And what did Luther himself contribute musically to the church?
You have reached the end of this Article Preview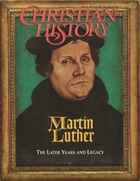 07/01/1993