John Chrysostom: Christian History Timeline
The dates of John Chrysostom's birth and life until 381 are highly disputed. Many of his writings can be traced only to a general period in his life; the dates given here are generally accepted. Not all of his writings could be listed here.
EARLY YEARS 349-371
349 Born in Antioch of Syria to Christian parents Secundus and Anthusa
363–367 Studies rhetoric and literature under pagan teacher Libanius
368 (Easter) Baptized at Antioch
368-371 Studies in a kind of monastic school; may have assisted bishop Meletius of Antioch
c. 368–371 Writes Comparison between a King and a Monk and several other works in favor of monastic life
c. 371 Ordained lector and serves the church of Antioch
LECTOR & DEACON 372-385
372–378 Lives in a semi-isolated state and then as a hermit until bad health forces him to give up this way of life
378–381 Lector (reads Scripture in worship) at Antioch
380 or 381 Ordained deacon (assists with sacraments); writes treatise of consolation to a young widow
381–385 Writes On the Priesthood
380 or 382 Two treatises condemning the cohabitation of clerics and virgins
PRIEST OF ANTIOCH 386-397
385 or 386 Ordained priest by Bishop Flavian of Antioch
386–387 Preaches homilies (sermons) I-X On the Incomprehensible Nature of God and Against the Jews (i.e., Christians who follow Jewish religious practices)
387 Antioch riots; John preaches sermons On the Statues
388 or 389 Eight instructions for baptismal candidates
390–397 Homilies on Genesis, Matthew, John, and 6 NT letters
397 Homilies on selected Psalms and on Isaiah
ARCHBISHOP OF CONSTANTINOPLE 398-403
398 Consecrated bishop of Constantinople. Takes steps to reform imperial court, clergy, and people; homilies XI-XII On the Incomprehensible Nature of God
398–402 Homilies on Philippians and ...
You have reached the end of this Article Preview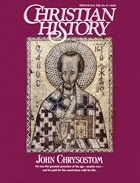 10/01/1994