Missions Dream Team
Seven young aristocrats—two of them famous athletes, and another two, military officers—forsaking the comforts of England to work with a relatively unknown missionary society in the back country of China—this was a story the press could not pass up, and these young men immediately became religious celebrities.
Known as the Cambridge Seven, they were one of the grand gestures of nineteenth-century missions. Their story, published as The Evangelization of the World, was distributed free to every YMCA and YWCA throughout the British Empire and United States.
Though their time together was brief, they helped catapult the CIM from obscurity to "almost embarrassing prominence," and inspired hundreds of recruits for the CIM and other mission societies. In 1885, when the Seven arrived in China, the CIM had 163 missionaries; they doubled by 1890 and reached 800 by 1900, one-third of the entire Protestant missionary force.
Their story—especially their brief encounter with the infamous Pastor Hsi of Shansi (Shanxi)—has another dimension: it gives a glimpse into the unbounded enthusiasm of early Protestant missions and late-1800s Chinese Christianity.
The Seven
Though they are remembered together, each of the Seven made commitments of faith and to the CIM separately, and each had unique ministries in China.
Stanley Peregrine Smith was the orator, scintillating, introspective, bookish, a real "percussion cap!" (as D. E. Hoste called him, for "the gun was already loaded" and Smith was the charge that set off the explosion). Son of a London surgeon, he was captain of the Cambridge rowing team and thus one of the most famous men in England. He was born again in one of D. L. Moody's revivals and helped found the Cambridge Christian Union, forerunner ...
You have reached the end of this Article Preview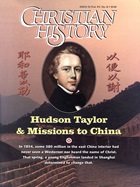 10/01/1996